A day in the life
There are a wide variety of interesting roles working for a retailer. The profiles below offer a snapshot of what working for Cotswold Outdoor is like.
David Astin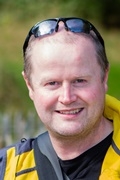 Role: Store & Retail Systems Manager
Location: Belfast
DofE level: Gold Award holder
"I started my DofE as part of the Air Training Corps and achieved my Gold Award in 1985. I have continued to be involved as an advisor and Assessor. It's a great way for young people to broaden their experience and challenge themselves in new areas with skills you just couldn't learn through the educational curriculum particularly dealing with different members of the community and teamworking. The expeditions triggered a lifelong passion for the outdoors which has also helped me within my career. I combine the role of Store Manager with supporting the development and testing of new retail systems (e.g. till and stock systems).
My role involves people management and development, financials such as monitoring costs and sales, growing the business and marketing the store. I worked my way up to this position starting in sales initially then taking on more responsibility and promotions as they arose."
Chris Kemp
Role: Retail Sales Assistant
Location: Skipton
DofE level: Gold DofE participant

"I have worked part-time for Cotswold Outdoor for three months. I'm completing my A-levels before going to university and this role is a great way to make a bit of money while selling kit that really interests me. In work I serve customers, answer queries and work on the tills. I also sort out deliveries and keep the shop floor tidy. The DofE outdoor experiences are very useful for the majority of my role but having been self-sufficient in expeditions and thrown into different new situations I felt confident to approach the job interview and now to deal with different types of customers on the shop floor.

I have almost completed my Gold Award with just the Residential section to finish. I think the DofE will continue to benefit me when I apply to university as I have plenty of information to share on my personal statement."