Bronze Expedition options trial

What is the Bronze Expedition section
options trial?

The DofE Charity is responsible for ensuring that our programmes offer young people the chance to experience new activities, grow in confidence and develop useful skills for life and work in a non-competitive environment. The DofE is thriving today because, since being founded in 1956 by HRH The Duke of Edinburgh, we have continually evolved the way our programmes are delivered – enabling us to remain relevant, rewarding and challenging for the benefit of young people.
We've listened to feedback on the challenges and opportunities faced by Licensed Organisations across the UK, including the limited capacity of centres to run expeditions and the cost to participants to complete. We also know that when participants fail to complete all but one section of their Bronze programme, it's most often the Expedition section that they have left to do.
That's why we're offering Licensed Organisations five new options as part of a UK-wide trial, which you can choose to use with your Bronze groups. Running this trial will let us assess if using these options improves the number of participants starting and completing their programme or the Expedition section, without having a detrimental effect on the powerful impact that undertaking an expedition has on participants.
The options are just that – optional. You can opt to use them as part of the trial this year and, if we do make them available as part of the programme in the longer term, they'll still be options that can be used as local needs dictate.
---
Who can take part in the trial?
The options are only applicable for those that are participating in a Bronze-level DofE programme during the trial period. The expedition requirements for Silver and Gold-level programmes remain unaltered and do not form part of this trial.
---
Why are we making these options available?

We want to make operating and delivering DofE programmes as easy as possible for our Licensed Organisations – we know you're busy people with busy lives, who are doing amazing work every day to support young people through their DofE.
We also want to ensure that DofE programmes are attractive to all young people, including some who may be initially put off by the idea of camping. We want to make sure that the benefits of the Expedition section to participants are maintained – continually challenging young people to explore and develop by pushing them out of their comfort zone. We also know that participants have to be able to tailor the nature of an expedition to meet their own needs and circumstances.
We want to make sure that the Bronze expedition experience is a positive and attractive one, which gives most participants their first taste of expeditioning and encourages them to undertake further adventures by completing their Silver and Gold DofE programme.
---
What are the different options available?
Following some small scale pilots in 2017, we're now giving you the opportunity to trial any of the following five options to the Bronze Expedition section:
1: Indoor accommodation
When promoting Bronze DofE programmes at the start of the year, young people can be given the choice of staying overnight either at indoor accommodation or camping while on expedition. Highlighting this option to young people will help us to engage with those who don't like camping and wouldn't otherwise choose to take part.
Participants utilising this option should use basic indoor accommodation, such as a bunkhouse, village hall or similar. This may or may not be outside of the usual expedition season, from March to October. There's no requirement for this to be recorded on eDofE.
However, participants must still complete the required expedition training and teams should carry a tent or other group emergency shelter regardless of whether they plan to be sleeping in it. Participants who decide to use indoor accommodation will be expected to cook in the same way as if they were camping.
2: Leader set generic aim
Participants can decide if they would like to come up with their own aim for their expedition – relating to the interests and abilities of those in their team and the area they are travelling in – or to have a generic aim set by their Leader. For example, using canoes to explore and research historical buildings on a lake system.
You can run an expedition where some or all of your DofE groups are given a Leader set generic aim. This option must be inserted into each individual's eDofE account using the 'Expedition set up' functionality as usual.
3: Combined Supervisor/Assessor
You can run an expedition where the DofE Expedition Supervisor or DofE Expedition Assessor performs the functions of the other role in addition to their own. They will be responsible for ensuring the safety of the participants and should carry out the assessment in the same way as they would with any other group. However, one person will perform both roles simultaneously.
They should assess the group against the 20 conditions and will need to ensure that they maintain an objective approach and apply a fair standard of assessment. They should divide their time appropriately between supervising the group and assessing them. The adult must explain to participants in advance that they will be performing two roles, highlighting what the differences are and which role they are performing at any given time. For more information, including how to carry out supervision, ensure that the standards of the DofE are maintained and that the 20 conditions are met by the team, take a look at the combined Supervisor/Assessor role description.
During the trial period, there is no requirement for the individual carrying out this dual role to be an Accredited Assessor. However, the individual must meet the requirements of the LO or AAP they are working on behalf of in terms of their competence to supervise a Bronze expedition, ensuring that they use the role description document to fairly assess the expedition against the 20 conditions.
There is no requirement for this option to be recorded on eDofE.
Our hope is that this will enable centres to increase the number of Bronze participants by creating capacity to supervise and assess additional groups.
4: No presentation
You can run an expedition where there is no requirement for participants to deliver a presentation after they have returned from their journey in order to complete the section.
However, the team will still need to have a full debrief with the Assessor immediately after the expedition has taken place. The Assessor will help participants review the expedition and express their feelings and reactions. It will confirm if the expedition has been successful, enable participants to recognise their learning and personal development as individuals and as a team, and will last between 20-30 minutes. For more advice on how to ensure young people are able to reflect on their experience, check out our guide.
Completion of participants' eDofE record should state 'No presentation' in the fields marked 'Presentation given to' and 'Presentation style'. 'Other' should be selected in the role field and the date should be the last day of the expedition.
5: Training
You can run an expedition where the emphasis is on having a particularly robust and thorough training programme and schedule, removing the need for a practice expedition.
The practical training must be comprehensive – meeting the requirements of the DofE's Bronze Expedition Training Framework – and include participants carrying all of their equipment when journeying, putting up and taking down a tent, and cooking a hot meal. It is not necessary for the training to have an overnight stay; however participants need to understand the level of fitness required for a two-day expedition as well as the practical skill of time management. Take a look at the Expedition Training Framework – Bronze for more information.
You are reminded that you are still responsible for ensuring that participants are adequately trained to safely undertake a qualifying expedition.
This option should be recorded on eDofE by putting a '1' as the number of days in the expedition practice information.
During the trial, all other aspects of the Expedition section should be carried out in exactly the same way as normal and DofE groups will be required to follow the usual assessment criteria. For more information about the options in this trial and how they will work, take a look at our FAQs below.
The aim of this option is to reduce the cost of a Bronze Expedition section and increase capacity or reduce the commitment required by Leaders by removing the need for a practice expedition to be planned, funded and managed.

---
How long will the trial last for?
The trial will launch at the end of March, running throughout the 2018 expedition season.
---
How to join the Bronze Expedition section options trial
To sign up to our trial, simply choose one or more of the Bronze Expedition section options and send an email to [email protected], confirming which options you will be using and when your expedition is taking place. Don't forget to copy in the Operations Officer who you work with at your DofE Region or Country Office.
Once your group has completed their expedition, you will be sent a link to a survey that we ask you to complete – providing us with your feedback on the objectives of the trial and any impact on the outcomes of the Expedition section. Remember to highlight any achievements or difficulties they experienced along the way.
---
FAQs – General
Why is the trial being conducted?
We're trialling five options to the Bronze Expedition section to see if varying any of the 20 conditions improves the number of participants starting and completing their programme or the Expedition section, without having a detrimental effect on the powerful outcomes that undertaking an expedition has on participants. We hope the options will enable Leaders to meet the growing demand for participation in the DofE with the resources available to them, and to make the DofE accessible to ever more young people – particularly those who come from disadvantaged backgrounds.
What is the trial aiming to achieve?
We believe that offering greater flexibility in the 20 conditions for the Expedition section will:
increase the number of young people starting and completing a Bronze programme;
allow for a longer expedition season in which participants can complete their programme;
rationalise the time and effort of adult volunteers involved in planning and delivering expeditions;
offer easier accessibility for participants with additional needs; and
increase the attractiveness of doing a DofE programme for young people who are put off by the thought of camping and, consequently, don't engage with the DofE at all – missing out on the benefits experienced by taking part in all sections.
It is our hope, therefore, that this trial will help us understand which options at Bronze-level will deliver the objectives of the Expedition section whilst also increasing capacity within Licensed Organisations and making the expedition more attractive to young people.
Who can take part in the trial?
All Licensed Organisations across the UK can take part in the trial.
Is it compulsory for Licensed Organisations to take part in the trial?
The trial is open for all Licensed Organisations to take part in; however it is not compulsory – Leaders can continue to deliver Bronze expeditions without using any of the options and will have to do so for groups doing their Silver or Gold DofE programmes.
Can Licensed Organisations use more than one option during the trial?
Yes.
Does the trial move away from the principles of the DofE?
Not at all; the programmes we offer via our Licensed Organisations have to be in line with our guiding principles and the framework set by The Duke of Edinburgh's International Award, of which we are a founding member. We take this responsibility very seriously.
How will you know if the trial has had an impact?
We believe that where these options are trialled, more young people will go on to start and achieve their Bronze Awards, without negatively affecting any of the outcomes of the Expedition section. We will be closely monitoring the uptake of the trials and the impact of them on participants' experiences and likelihood of completing a programme throughout 2018.
The Licensed Organisations that decide to undertake one or more of the options as part of this trial will be asked to provide their feedback by completing a survey. We will then use these results to evaluate the impact the options had on DofE participants and volunteers.
Can Licensed Organisations withdraw from the trial?
Licensed Organisations can withdraw from the trial at any point. If you decide that you no longer want to take part, please email us at [email protected], stating which options you were using and the reason why you are withdrawing so that we can learn from your decision.
Do I need to get permission from the DofE to use one or more of the options?
You don't need to get permission from the DofE to use one or more of the options. Once you have confirmed your plan to use one or more of the options, please notify us by emailing [email protected] and copy in your Ops Officer.
Do I need to inform my DofE Manager about using one or more of the options?
Yes. You need to agree that the use of one or more of these options is acceptable to your LO and have your DofE Manager's agreement by whatever process you have in place to do this.
---
FAQs – Indoor accommodation
What sort of accommodation can be used?
Simple accommodation can be used, such as camping barns, bunk houses, community halls or hostels. Accommodation run by other youth organisations may be suitable, for example Scouts or Guides.
What is the criterion for simple accommodation and what happens if the accommodation has more facilities than we want participants to use?
We are looking for structures that offer basic shelter – these may also have toilet and washing facilities similar to those already found on most camp sites.
It will still not be permissible for participants to use recreational rooms or kitchens as per our current guidance. Using bunks which provide bed linen should also be avoided.
Who is likely to use this option?
As well as those who have additional needs, the option of not camping under canvas may encourage young people who find sleeping in a tent unappealing and therefore a barrier to taking part in a wider DofE programme. Thus many young people do not benefit from the wider DofE programme or develop the skills that it offers.
We hope that introducing young people, who would not opt to do their DofE because of a dislike of camping, to the countryside and expeditioning will be encouraged by their Bronze experience to go on to camp at Silver and Gold levels.
What makes you think that this option will help people complete their expedition?
In a recent survey we conducted, Bronze participants who had only done a practice expedition were asked what would encourage them to do a qualifying expedition. Over one in ten answered 'If I didn't have to sleep in a tent'.
We also hear of a range of young people who, for cultural reasons or perhaps family history, do not think camping is for them. So, they don't sign up to do the DofE even though they are already doing, or would be prepared to do, many of the other activities that would contribute towards achieving their DofE Award.
How else could this option help?
This option will help by enabling out of season expeditions to take place. This could assist participants who have not been able to take part in the qualifying expedition planned by their Licenced Organisation. It could also enable Licenced Organisations with capacity issues to extend the period in which staff can run expeditions.
---
FAQs – Leader set generic aim
How can a Leader set generic aim help?
Many participants are unfamiliar with setting aims and as a consequence either set unrealistic aims or ones that have little appropriate challenge in them.
By having the Leader pre-set an aim for one or more teams it can help participants learn what an aim is and how to use it. It can also provide consistency for a number of teams, from the same Licensed Organisation, undertaking their expeditions at the same time.
How can I do this?
The Leader may have a list of suitable aims from which the teams choose one to use for their expedition. Alternatively, the Leader may just set an aim that all the teams will work to. The aim should be relevant to the terrain and location of the expedition. The Leader may produce supporting material to help participants or assist them in preparing other ways to achieve their aim.
How is this recorded on eDofE?
The aim is recorded in exactly the same way that any aim is recorded, there is no need to make a special note that the aim was set by a Leader.
---
FAQs – No presentation
Why does the current presentation process cause problems?
There can be several months delay between completing the qualifying expedition and having an opportunity to make a presentation. In this period participants may leave the LO, have exam pressures that take priority or otherwise be unable to deliver a presentation as a team. Sadly, it appears that a failure to manage the delivery of a presentation is often the cause of non-completion not only of the Expedition section but therefore the whole programme.
How do the teams consolidate their learning?
We believe that participants should reflect on what they have learnt about themselves and each other, to report their findings relating to their expedition aim and to celebrate their achievement. This can be achieved by having a thorough debrief with the Assessor at the end of the expedition.
How do I record this on eDofE?
Complete all the details for the qualifying expedition as you would normally in eDofE and in the presentation field, use the following:
For 'Presentation given to (name)', insert 'No presentation'.
Under 'Role', select 'Other'.
For 'Date', state the date of the last day of the expedition.
For 'Presentation style', insert 'No presentation'.
---
FAQs – Training
What standard do participants need to be trained to?
Each participant needs to be sufficiently trained to undertake their qualifying expedition safely and enjoyably, by completing the Bronze Expedition Training Framework. This training should not only cover the practical elements of map reading, route planning, cooking, first aid and camping but also teach participants about time management, the countryside code/outdoor access code and the physical demands of carrying a full rucksack whilst walking for several hours on successive days. Offering a comprehensive programme of training, which is delivered by Leaders and undertaken by participants in their own time, will ensure that they are fully prepared for a two-day expedition.
Doesn't the lack of an overnight practice mean participants are less likely to be fully trained?
Participants have always needed to be fully trained in order to undertake a practice expedition.
Practice expeditions are one way of showing that the learning, skills and knowledge delivered in training have been absorbed and understood. However, we believe that their competencies can be demonstrated as part of the training by removing the need for a costly practice trip.
How can I be sure that participants will be safe?
You need to be satisfied that participants are competent to undertake a qualifying expedition. Your risk assessments should reflect all the training participants have had and that they are sufficiently trained in all aspects of the expedition to be able to undertake it confidently and safely. You should be doing this already to feel confident that they can undertake even a practice expedition.
How should this be recorded on eDofE?
Complete the 'Practice Expedition' field as normal but simply enter '1' in the compulsory 'Number of days' field.

---
FAQs – Combined Supervisor/Assessor
Does the person undertaking this dual role need to be an Accredited Assessor?
No, for the purpose of this trial someone who is presently a Supervisor can fulfil the Assessor role by using the combined Supervisor/Assessor role description to ensure that the 20 conditions are met. The sheet also helps to ensure that all the pre-expedition checks, normally undertaken by an Assessor, are understood.
What guidance is there for this combined role?
We have produced a role description document for anyone undertaking this combined role. It gives full details of the responsibilities of both the Supervisor and Assessor roles and references the relevant pages in the Expedition Guide for further information. It also includes an 'Expedition 20 Conditions' checklist as a reference to make sure nothing is overlooked.
Does this affect the Assessor report?
The Assessor's Report can be provided on paper or online via the Assessor portal. On the Assessor portal there is a compulsory field for the Assessor Accreditation number. Here, the combined Supervisor/Assessor can either enter:
their Accredited Assessor number if they have one;
their eDofE ID number if they don't have an Accredited Assessor number; or
if they don't have an Accredited Assessor number or an eDofE ID number, their name.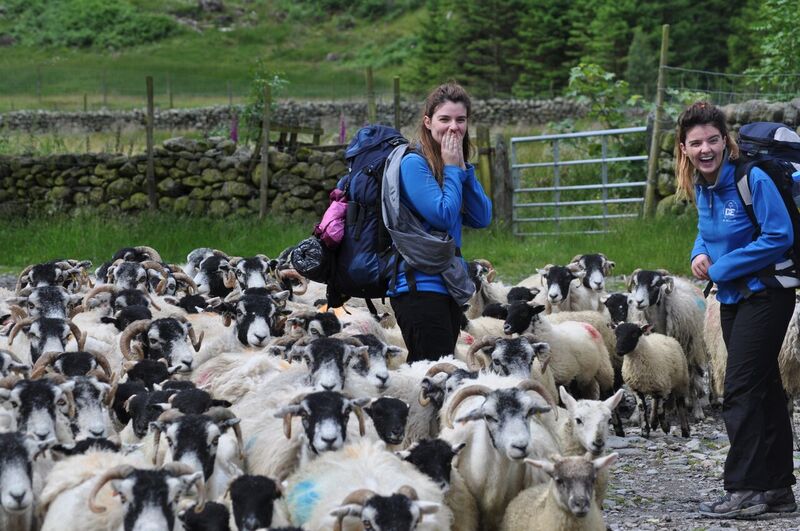 Feedback from last year's pilot
Up until now, the Bronze Expedition section options have only been piloted on a small number of participants, but have witnessed very positive results. Read feedback from some of the Licensed Organisations who took part…
Combined Supervisor/Assessor
"I believe the the combined Supervisor/Assessor role provides greater opportunity for the volunteer to interact with the young people and understand the experiences they encounter while on their expedition, as well as gain more local knowledge.
The person was more content knowing that the group was safe, having an excuse to see the young people more often throughout the day.
The most promising part of the trial and the qualifying expedition was that the person in the combined Supervisor and Assessor role deferred a group they were familiar with, ensuring quality assurance was upheld and maximised to its full potential.
I feel this is a huge step in the right direction to offer schools, colleges and universities more options for the expedition at less cost."
Leader, school in Armagh
Leader set generic aim
"It was easier to monitor as a Leader and assess. I was able to make a booklet that could be handed to the students for them to develop and complete. At Bronze they are learning a lot of new skills and I found it was quicker and a lot less stressful for me to use the same and generic aim for all groups.
As a brief overview, the generic aim was excellent and allowed the participants to have more in common with each other during preparation and evaluation of the experience. It also helped the staff guide participants during the expedition preparation."
Leader, school in Armagh
"From my perspective, it helped the group a lot – in the past I have found it hard finding an aim that everyone agrees on and is worthwhile. Our students also have different additional needs, so not having to do the extra aim allowed them to focus on the walk and their orienteering."
Leader, SEN school in Leeds
"Interestingly, we already have 27% of all students completing their programme within the week of finishing with more expected imminently. We are hoping to get over 60% of this cohort completing."
Leader, school in Bristol
No presentation
"I didn't really feel like the presentation helped because only two people in our group made the presentation – it was very difficult to find a time everyone in the group could get together to complete it. People sent the photos to one person in our group and then worked with another person in our group to make the presentation."
Participant, school in Bristol
Indoor accommodation
"I think it may be appropriate for us to be able to stay indoors at some point but at the moment groups so far have been keen to camp."
Leader, SEN school in Leeds