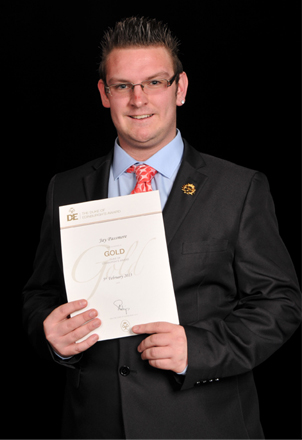 Jay Passmore
When Jay from Devon was growing up, he had no idea of what it was like to live in a stable family home, to have friends to play with or to spend more than a year in the same school. From the age of ten, Jay was a child in care, dependent on the system and the foster carers he was placed with.
Frustrated at being moved from pillar to post, Jay rebelled at school and got involved in crime, "I was a thug, I got excluded from school and I rebelled at every opportunity because I knew I'd soon be moving on. I didn't know how to make friends because I'd never had the time to" Jay says.
One evening Jay got the wake-up call he needed, when eight police officers turned up at the door of his foster carer's house to take him down to the station. Jay sat in a cell and thought he'd be quickly returned to the system once his carer heard what had happened; but that wasn't the case.
Jay says: "The police officer called my carer and asked, 'do you want him back?' and she said, 'yes, I do.'"
It was that moment which marked Jay's turning point, "I was like, wow, most people would've wanted me gone but that showed me that someone loved me and they wanted me and that made me want to change."
On leaving care at 17, Jay remained in close contact with his foster support workers. Keen to do something to help other children and young people in care, Jay started volunteering with activities for children in care that he had benefitted from when he was younger.
Jay says; "Because I'd been a child in care myself I knew what it was like to feel unmotivated and undervalued so I wanted to get involved and try to help, give something back. The young people engaged with me differently to the other support workers when they found out I'd been in care, too. I found that they quickly opened up about their problems because I could relate to them. I was able to encourage them and be a positive role model to other young people in care." 
When the group started to run Bronze DofE programmes for the fostering service, Jay wanted to get involved too. He spoke to his support worker who recommended he go for Gold – the top level and most highly regarded DofE Award.
Jay says: "I was apprehensive at first because I'd never done anything like the DofE and although it sounded like a great opportunity, I wasn't sure I'd be cut out for it. I had low confidence and had never been very good at meeting new people."
But Jay took the plunge and never looked back, after raising over £1,500 to travel to South Africa for both his Residential and Expedition sections where he spent three weeks with a group of people he'd never met before, camped in caves in a rainforest home to leopards and helping members of a Zulu tribe with washing and gardening, Jay returned to Devon well on his way to achieving his Gold DofE and as a completely new person.
Jay says; "It's a totally different culture in South Africa, it makes you realise how much we take things for granted over here. The people I met were the happiest I've ever met and were so generous. I've learnt to appreciate what I've got."
As part of his Gold DofE, Jay was also able to gain skills in archery and learn how to climb. And for the Voluntary section he continued to volunteer with young people in care, helping with different activities, including assisting with their Bronze Award programmes, gaining a qualification in archery and fencing in the process.
Jay says: "It's amazing what the DofE can do, you can meet new people and stay in contact, make friends for life. It has massively changed my life. I had never really achieved anything and the DofE gave me the chance to achieve something and feel really proud of myself. 
I look back now and think if I hadn't have done my DofE, where would I be now? I can't imagine it. It's been a real journey and if it wasn't for my support worker, Richard, I'd never have got to where I am now.
My DofE has given me the motivation to succeed, confidence, a new sense of self-esteem, it's made me realise I can be whoever I want to be."
Jay received his Gold DofE at St James's Palace on 5th February 2013. He continues to volunteer his time at a local youth group every week.