A day in the life
Hear from one of our team below on what their role involves and how their DofE has helped them in their working life…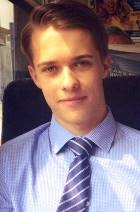 James Johnson
Role:Quantity Surveyor apprentice
Start date:03/03/2014
DofE level:Bronze, Silver and Gold Awards
"I am a Quantity Surveyor apprentice working on a Crossrail Project at C512 Whitechapel Station, London. As an apprentice I need to complete two years at college, where I will achieve a Level 3 BTEC and level 3 NVQ. I will then go on to university to study a degree in Surveying.
I am responsible for 35 subcontractors who are working on the Whitechapel project. On a daily basis I respond to emails from them, answering queries and any issues they may have. This could be anything from delays in delivery dates to an unexpected discovery of asbestos requiring an immediate survey of the surrounding area.
I also receive invoices, assess them and then decide if they are liable to be paid or not. I instruct relevant companies to carry out new work which is not in their contract.
I achieved my Duke of Edinburgh's Awards whilst studying at Dartford Grammar School. I completed my Bronze in Tunbridge Wells in 2010, Silver in Meopham in 2011, Gold practice in Snowdonia, North Wales and my Gold qualifying expedition in Nepal in 2012.
Throughout my DofE programmes I developed my organisational skills which allows me to manage my workload efficiently and coherently. It helps me balance work, college and my social life.
While volunteering I increased my level of patience. An example of this was teaching the elderly how to use computers. This now helps me keep calm in high pressure situations.
During my Gold expedition to Nepal I found myself in challenging situations, which I overcame. I feel this has enabled me to adapt to problems presented to me in the workplace.
My Duke of Edinburgh's Award has given me many life skills which I use every day and it has made me a better person. I would recommend it to anyone who is up for a challenge."