A day in the life of some of our team
Hear from some of our team below on what their various roles involve. Some also describe how their DofE has helped them in their working life.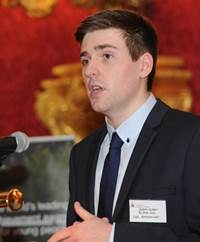 Simon Gibbs
Role:Newly Qualified Service and Repair Engineer
Start date:2012
DofE level achieved: Gold Award in 2012
Best DofE skill acquired
The navigation skills and the confidence in which this gave me to problem solve and be more independent.
First job at British Gas and what this involved:
My first job at British Gas was an apprentice Service and Repair Engineer, where I began training to become a fully qualified Technical Engineer. I spent half my time training in a British Gas Academy, where I learnt the technical side of gas engineering, and the other half working out in the field with an engineer, to gain hands on experience.
An average working day is…
My average working day involves starting at around 7:45am, when my first job is sent down to me on my work computer. I drive to my first job, which could be something simple like servicing a boiler, or it could be something more challenging such as having to fix a problem on someone's boiler.
Once I have completed the job I update my computer to say I have finished and I get sent the next one and so on. Should I be unable to fix the problem that day and need some parts I can order those and book another job to go back and fix it.
A typical working day for me is from 8am to 5pm with a one hour lunch which is to be taken in-between jobs at a time I choose.
At the end of my day I drive my van home and log off my computer, ready to start the next days work.
Do you think your DofE helped you get your job?
My DofE was a huge help when training for my new role in British Gas. It gave me much more confidence when tackling different aspects of my work. It also meant I developed my communication and teamwork skills and made me a more valuable asset to the company.
What advice would you give the 14-year-old you?
If I could pass one bit of advice on to 14-year-old me, it would have to be focus on the things you enjoy, whatever that may be. They are so many different jobs out there, so there is always a job which involves doing something that you enjoy.
Most memorable DofE experience:
My most memorable DofE experience was the moment we completed our qualifying expedition and the feeling of achievement and amazement at what we had just completed as a group.
Best and worst part of your job…
The best part is the independence. That is the most enjoyable part of the job for me, working at your own pace and meeting lots of different people throughout the day.
The worst part is that it can be quite a challenging job in the winter months with lots of breakdowns and longer hours.
"If I could pass one bit of advice on to 14-year-old me, it would have to be focus on the things you enjoy, whatever that may be. There are so many different jobs out there, so there is always a job which involves doing something that you enjoy."
Simon Gibbs
Simon meeting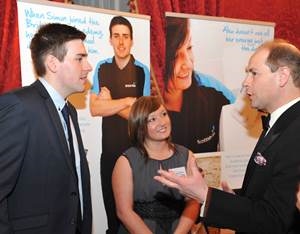 Simon meeting HRH the Earl of Wessex