Inspiration from some of our Award holders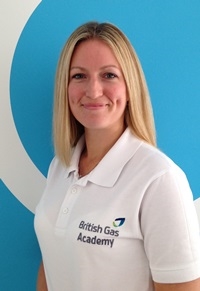 Rebecca Clancy
Role:Learning and Development Manager
Start date:2010
DofE Award level achieved:Gold Award in 2008
Best DofE skill acquired: Confidence and trust in other people
Do you think your DofE helped you get your current job?
The DofE gave me the skills and opportunity to demonstrate who I am and what I can achieve. I put these skills into my day to day work. When the opportunity came for me to move into another part of the business I had lots of skills and experience to offer to the role and join their team.
An average working day is…
On an average day I will work with a group of people teaching them theory and practical elements of gas engineering, such as soldering copper pipe into different items such as watches, people and names. We create heating systems from scratch including electric wiring and cylinders.
As an apprentice I really enjoyed the residential part of my DofE, I met new people my age with the same interests and we spent the week playing games and completing tasks set by our trainers. It was a great team building experience which broke the ice and made the learning experience more fun for everyone.
Favourite DofE memory:
Hiking across the Brecon Beacons and Exmoor with my colleagues, in all weathers and seeing lots of beautiful sites of our country.
Best part of the job:
The people I work with are very nice and always want to help you succeed.
Top career-defining moment(s):
Completing my Gas Qualification, achieving my Gold DofE Award and receiving my certificate from HRH Prince Edward the Earl of Wessex at St James's Palace. After becoming an LDM I helped others achieve their gas qualifications to become successful in the industry. I represented my company and The Duke of Edinburgh's Award and attended St James's Palace as a Marshal also meeting HRH the Duke of Edinburgh.