A day in the life
Natalie Egan is the Marketing and Events Co-ordinator at DAKS. Read on to find out more about what she gets up to every day…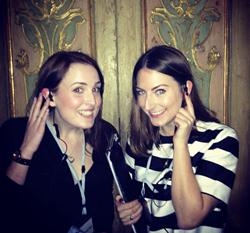 Natalie (left) backstage at the show
As the Marketing and Events Co-ordinator here at DAKS, it's my responsibility to come up with initiatives to promote the brand and encourage customers into the stores. Whether it's partaking in national activities, working with other companies or just organising general activity, I need to make sure that there is a conversation point for the brand.
I also manage the communication channels with our customers including our weekly email newsletters, our social media channels and the website, as well as organising advertising in magazines and newspapers.
Another big part of my job is to organise events for the brand. This can be anything from huge seasonal events such as The Royal Windsor Horse Show or smaller local in-store events.
The great thing about my job is that although it can be the same tasks that I do each day, they differ every time and I'm constantly faced with new challenges.
Yesterday I was emailing our production team in Milan to discuss the location for this season's fashion show, adding new products to the DAKS website, liaising with our photography agency, speaking to the guys at Twitter about new projects, then getting on a train to do a site visit in the grounds of Windsor Castle!