A day in the life
Our people come from across the world and all sorts of backgrounds – our differences are what make us successful. We want our employees to use their unique experiences and skills to make their mark. Here are just a couple of our people talking about their roles here…
Andy Howles
Role: Principal Architect, Information Systems
"I've been at Ordnance Survey for four years and I'm finding it interesting, challenging and exciting.
I studied geography and geographic information science at University.
I wanted to work for Ordnance Survey, because it's an internationally recognised centre of excellence and could give me experience of one of the worlds biggest geospatial databases – we maintain about half a billion active features in our large-scale systems.
I find my job rewarding because it is technically very challenging, but gives me an unusual blend of the academic and the pragmatic. Much of the skill in systems architecture is about compromise and it takes skill and discipline to do the job well.
My role is a varied one. Sometimes it involves looking at the big picture, working with colleagues to determine how our technology resources should be used and developed. At other times I write technical documents to help systems to work together, anticipate technical problems, and work with suppliers to make sure that specifications are agreed and met.
Right now, I'm part of a team working on a major re-engineering programme. It's been great to be able to influence the shape and direction of the programme and exciting to be making a contribution to such a strategically significant piece of work!"
April Mawhinney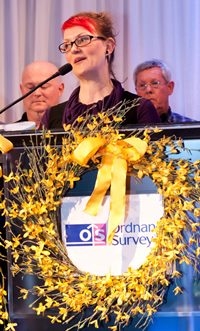 Role: Customer Service Adviser, Customer Service Centre
"I've always had a passion for maps and had written my degree dissertation about mapping and cartography. I applied to work for Ordnance Survey, because I it was a chance to work with a product I really liked.
I work in the Customer Service Centre dealing with all types of enquiries. These could be from the general public, from Ordnance Survey's partners or other commercial customers.
I am responsible for investigating and responding to enquiries, liaising with technical teams, account managers and our online fulfilment centre. I identify trends and implement change to prevent issues from re-occurring.
I really enjoy investigating and resolving complex enquiries as it can be very satisfying, although one of the challenges is in explaining very technical issues in a way that makes sense to someone outside the organisation – I often try to re-write information in plain English and delete all our acronyms.
Ordnance Survey is a very interesting place to work –the staff are very friendly and there is a real sense of community."
I love the work here as I get a real buzz dealing with customers directly on the phone.
April Mawhinney- Customer Service Adviser, Customer Service Centre
My role is a varied one. Sometimes it involves looking at the big picture, working with colleagues to determine how our technology resources should be used and developed.
Andy Howles, Principal Architect, Information Systems