Inspiration from our DofE Award holders
We believe doing the DofE makes you better at your job. Our apprentices who take up the DofE challenge become more confident, better team players, and give themselves the best chance to get ahead. Read some of our Award holders' stories below.
James Baker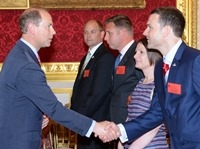 James Baker meeting HRH The Earl of Wessex
Role: Head Of Engineering Maintenance
Start date: 14/01/1989
DofE Award level achieved: Silver Award
Day to day role and responsibilities:
Responsible for the safety, quality, performance, cost and the technical leadership of 700 engineering technicians maintaining 1,000 machines processing 55 million items of mail every day.
How has the DofE experience helped you?
The DofE has helped the engineering maintenance apprentices develop key life skills.
What is your favourite DofE memory?
Seeing the excitements on the faces of the apprentices when tackling their programmes.

Ashaan Grewal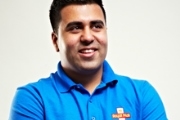 Role: Advanced Engineering Apprentice
"I used to work as a Deputy Manager in a well-known store selling bikes and car parts. But I've always been more practically minded and realised a retail career wasn't for me. At the time, I was also doing a course in electrics at night school, I loved it and decided that engineering was the field I wanted to pursue.
I've always been prepared to work hard for something I want – when I was younger, I was an international Tae Kwon Do champion. But at the same time, I have a tendency to stick to what I know. And being on the apprenticeship programme – particularly living away from home – has really challenged that side of my character.
The residential course in Blackburn has been brilliant. I've stretched myself, developed new skills, and made friends with all the other apprentices. Plus, of course, I'm earning good money, which means I can afford to treat myself occasionally.
That willingness to try new things has carried over to other aspects of my life too. My parents say I'm more outgoing too. I used to prefer quiet nights in with my girlfriend. But now, we're always out and about, catching up with friends and going out in Central London."