A day in the life
Vicky is part of our Advanced Engineering Apprenticeship scheme. Her job is vital. Vicky, and our other advanced engineering apprentices, are responsible for developing the ever-more advanced technology that helps Royal Mail sort and deliver 58 million items, six days a week.
Meet Vicky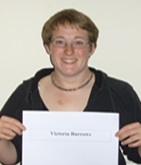 Role: Advanced Engineering Apprentice
What made you want to join Royal Mail Group?
I originally took up a role as a casual post person, which was how I heard about this particular role in the company, but after having been in the business a few months already I had a good feel for it and liked the idea of working for such an iconic British company, doing something I loved.
What do you do on a day to day basis?
I get involved with the other engineers performing scheduled maintenance routines and attending faults on the machines as well as creating job reports for my NVQ folder.
What do your friends think about your job?
They think my job is really interesting and a lot hadn't previously put any consideration into the fact that Royal Mail use machinery. They are usually really interested in how it all works from the basic function to the system's ability identify and sort the mail.
What do you enjoy most and why?
I enjoy the variation of working different shifts. As it is a 24hour operation that is run, each shift brings different challenges with different machine sets running at different times. I most enjoy the busier shifts in terms of faulting and especially when something new comes up to challenge me. I have also really enjoyed my machine courses as they give you a much better understanding of the machines you are working on as well as pointing out some alternative working practices.
What makes you proud to work at Royal Mail Group?
Being part of such a huge operation in such a recognised company is what makes me proud to work at Royal Mail, and I look forward the future of automation in the company.
What tip would you give a young person looking to join?
I would say do it! I personally have had great support from my colleagues direct and indirect, and feel this is the best career move I could have made.