Why the DofE is important to us
Christine Tyler – Talent and Succession Manager, Royal Mail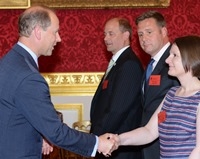 "My job to work with colleagues to look at the types of jobs and people the business needs for the future and to find the right people that we can develop for both technical and leadership roles. I love my work and feel lucky that I am able meet and work with our best people every day.
At 16 I joined Royal Mail as an Apprentice and did my DofE – I'm a proud Silver Award holder. In fact, I still have my certificate commemorating the achievement!
The expedition was the toughest part, because I had to canoe for several days with just a small kit bag, food and a tent for comfort. Although fatigued by the end it taught me lots about resilience, coping under pressure, and working with others to achieve a common goal – which are all attributes that have helped me in my work and life."
We believe The Duke of Edinburgh's Award is something in which everyone should have the opportunity to get involved.
Moya Green - CEO, Royal Mail