ScotRail
ScotRail are a Supporting Partner of The Duke of Edinburgh's Award Charity and also offer their apprentices the opportunity to do their Gold DofE
Inside ScotRail
Number of employees:4,852
Locations (of offices): ScotRail's head office is in Glasgow, but staff work all over Scotland, including 348 stations
Areas of operation: Customer Relations; Operations (operating the trains); Fleet (maintenance and repairs); HR; Learning and Development; Finance; Marketing/Communications – and more!
Our pledge to DofE Award holders
1. We believe The Duke of Edinburgh's Award makes young people more employable and better prepares them for work.
2. We believe the DofE develops young people's leadership, problem-solving, self-management and teamworking skills – attributes essential to the future of UK business.
3. We look favourably on young recruits with DofE Awards in our recruitment process.
Welcome to ScotRail
ScotRail is responsible for running safe and reliable train services throughout Scotland.
ScotRail's 4850 employees carry over 227,000 passengers on 2000 services every day. The safe, easy and reliable services ensure we are Scotland's leading transport provider. Our vision of "connecting Scotland" lets the passenger experience their journey from door to door and helps to invest in the future of the railway and Scotland.
In April 2015 the ScotRail franchise was awarded to Abellio Group to operate. Our business is like a family, we work together to support all of our colleagues. We really believe in hiring young people like you. We think the DofE is hugely important, and we believe the DofE is giving all employers, not just us, young people with the attitudes, talents and skills to really succeed in the workplace.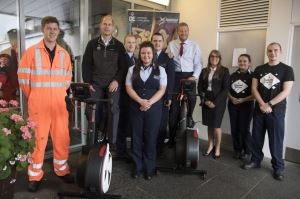 "I am immensely proud of our all our apprentices who have worked very hard towards attaining a Gold Duke of Edinburgh's Award. It's a fantastic opportunity for them to gain invaluable skills and real life experience which will stay with them forever. We're committed to developing and inspiring our people so it's fantastic to see what a great success the award-winning apprenticeship programme has been for all involved."
Phil Verster, Managing Director, ScotRail Alliance