A day in the life
Meet Ashleigh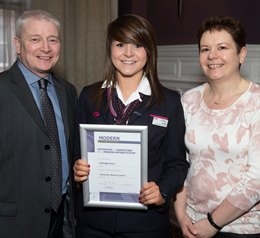 "I was formerly a Customer Service Apprentice with ScotRail and now working as a conductor at Glasgow Queen Street Station. I've had an interest in rail from a young age, especially as a member of my family works within the rail industry.
On a day to day basis I attend to many different customer roles. These include working on the ticket gateline, within the booking office of a station and on the train as part of the catering and revenue teams. I really enjoy getting an overview of how the different job roles work together as a bigger team to provide an excellent service.
My friends think my job role is interesting and it has also encouraged them to take more of an interest in rail, as well as generating a lot of questions about my job! I enjoy helping customers, its really rewarding. I am proud to work at ScotRail as everybody works really hard to provide a high standard of service for the people of Scotland every day.
One tip I would give to another young person looking to join the company is, if the opportunity comes, grasp it with both hands and work extremely hard with the opportunities you have been given and it will definitely pay off!"
"If you are prepared to work hard, you have the chance of a job – and a rewarding career – for life."
Corinna Wenzel, Fatigue Manager