Inspiration from our DofE Award holders
The DofE is one of the best things you can do to help your job and life prospects. If you achieve your DofE Award, you have a better chance of being noticed by somebody looking at CVs for your first job. And once you're on that first rung of the ladder, the sky's the limit.
Here at ScotRail, we really believe in the DofE, and we support it because we know what a difference it can make to the young people who take part.
We look for young people that have taken part, and for those that haven't had the opportunity, we give every modern apprentice the chance to do their Gold DofE Award as part of their apprenticeship.
Naomi Milligan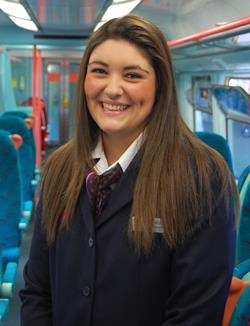 Naomi joined ScotRail as a Modern Customer Apprentice and received her Gold Duke of Edinburgh's Award – through ScotRail in 2011. As a result she found a full-time job in the Newton Booking Office. She has subsequently moved on to work with the Business Planning team in ScotRail's Glasgow headquarters.
"The DofE gave ScotRail's apprenticeship a structure which allowed me and the other apprentices to improve our personal and professional skills. I've tried lots of new things that I had never previously considered and have improved my self-esteem, communication skills and enthusiasm to learn. I especially enjoyed the abseil and fundraising for my Volunteering section because it was a once-in-a-lifetime opportunity where my colleagues and I were able to work together to benefit others. I learned how to cope under pressure, especially during the expedition, and I know it will make me a stronger person in the future. My Gold Award has been a real talking point and is something which receives enormous respect. I am confident this has helped me to stand out."
Liam Cooper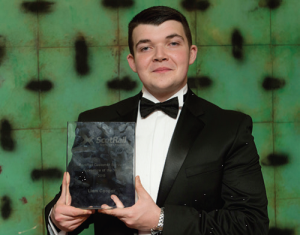 Liam Cooper,Customer Service Apprentice of the Year, 2015
"My time as an apprentice was invaluable. I gained a plethora of skills and experienced the opportunity to learn from many different mentors in many different roles. All of these different placements which parallel in similarities taught me to take in as much knowledge as I could in a relatively short space of time and to adapt to different environments."