Inspiration from some of our staff Award holders
Amy Arnold BA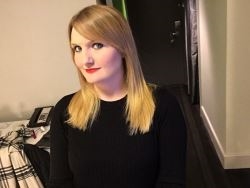 Amy Arnold BA (Hons) MCIPS, Category Specialist, talks about her career at UK Power Networks. Read on to find out more about her role, what it's like to work for UK Power Networks and how her DofE has helped her to get to where she is today.
Click here to hear from UK Power Networks apprentice Toby
How you got into your line of work
I went to university not really knowing what I wanted to do, so I took a degree that would open doors to me in different areas – Business, Operations and Project management. As part of my degree I had to take a placement year working in industry. When it came to applying for roles I was still not clear on what I wanted to do but knew I wanted to work for an automotive company and as I enjoyed my Operations management modules I looked for something similar to this. I ended up working for Vauxhall Motors as a Logistics Analyst and Buyer. Although the role involved a lot more analytics than buying, the buying part was what I enjoyed the most and this paved the way for me to head into Procurement when completing my studies.
Tips for getting into your career
* Be confident, we spend a lot of time dealing with challenging stakeholders and suppliers, you need to be confident in yourself
* Don't think it is just 'shopping'. The role involves a lot of negotiation and analytics. It is hard, but very rewarding
* Be willing to challenge – one of the hardest things you will do as a Procurement professional is challenge the business 'subject matter experts' – just because they have always done something that way doesn't mean it is the right way
* Have a commercial interest – you need to understand how things work such as currency fluctuations, metal prices, labour costs etc in order to fully appreciate the markets you are working in and your influence as a buyer.
What's your day to day role and responsibilities
I am responsible for the procurement of general inventory and material related services. This includes materials such as tools, instruments and PPE to name a few and the associated services such as repair and calibration of the tools, logistics services, and scrap and recycling contracts. This means I run tender events to ensure UK Power Networks are achieving the most economically advantageous offer in terms of price, lead times and quality whilst meeting our obligations under the EU Utilities Contract regulations. I set key performance indicators to ensure the suppliers meet our requirements and manage the contract once it has been awarded, therefore ensuring any issues are resolved, new products are added to appropriate contracts, suppliers are meeting their obligations and I liaise with the business to drive continued value add activities through our supply chain.
How has your DofE experience helped your career
I completed my DofE Award whilst at school, initially I started it as it was something that would look good on my university application form, but actually it turned into so much more than that. In order to achieve my Awards, I had to complete skill hours, volunteer hours and an expedition. The expeditions were the hardest things I would have faced at the time. Not only did I learn life skills such as map reading, I also learnt the importance of team working – we walked in a group of 5/6 and in order for us to pass our Awards we had to all complete the expedition together, this meant carrying other people's equipment when they were struggling, helping to pull people up when they couldn't climb the rocks or just walking at the pace of the slowest team member. Until this point I didn't fully appreciate what team working really meant. Having learnt this skill early on I believe that it is something that has really helped me to get where I am today. In addition to this, my DofE taught me focus and commitment, which is something that has helped me achieve further since joining UK Power Networks – for example, this year I completed my level 6 of the Chartered Institute of Procurement and Supply therefore meaning I am now a full member which is a great achievement in our field.
What is the biggest lesson you've learnt so far?
The biggest lesson I have learnt so far is that it is possible to succeed as an individual whilst still succeeding as a team. This is something that I learnt through doing my DofE as you have the team working element of the expedition and then the individual elements of the Skill and Volunteering sections. When you are looking to succeed in something such as your IPR it is easy to focus on your own individual targets without thinking about your team, but by doing DofE I was taught that in order for me to succeed others do not need to fail, I can also help them succeed. It is important that you bring your colleagues along with you when your successful, rather than pushing them down in order to make yourself look better, more can be achieved when working together, without this knowledge it would have been impossible to achieve my DofE Award and to be where I am today.
What is your favourite DofE memory?
I have so many good memories from DofE, I learnt some new life skills which have proved to be priceless, I volunteered in a retirement home which was so rewarding, and I met the Duke of Edinburgh, but my favourite memory is when we were on our Gold expedition in the Yorkshire dales, we had been walking for three days and it was pouring with rain. We sat under a tree eating lunch, tuna from a pouch and wraps again. Whilst we were sitting there one of the boys from my team, who I barely knew before, turned to me and (gently) slapped this wet tortilla wrap round my face – the whole team (including me) started laughing, and I think at that moment we realised what it was all about. It wasn't about completing an expedition as a team, it was about completing it as friends. Nearly seven years on from when we completed that expedition we are still the best of friends, I am confident that we will remain friends for life, and I have my DofE to thank for that.
What is it like working for UK Power Networks?
I love working for UK Power Networks, it is really important to me that I work for a company that has a clear vision and values that are not just written down but actually embedded into the culture of the organisation. Not only am I able to do a rewarding and challenging job, I am also able to participate in things outside of my normal day job thanks to UK Power Networks. For example, this year I have completed two volunteer days working with children to teach them about the dangers of electricity, and earlier in the year I climbed the Gherkin in London with a team of my colleagues to support the NSPCC. I work with a diverse and brilliant group of individuals across UK Power Networks who make it a pleasure to come to work each day. The opportunities are there for those that are willing to take them.