Inspiration from some of our staff Award holders
Ian Grant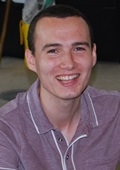 Role: Assistant Quantity Surveyor
Start date: 2007
DofE Award level:Gold Award
"I'm Ian Grant, I'm 25 years old and joined the company as an apprentice carpenter I'm now an assistant quantity surveyor. I was given the chance to do my Gold DofE Award with VINCI Facilities.
I had heard of The Duke of Edinburgh's Award but never had the chance to do it. My good friend Alex English completed it the year before and he and his manager David Parry, encouraged me to take part if I had the chance.
It was a big commitment to take part and not knowing anyone was very daunting but after the first residential we were like a family and ultimately we are part of the VINCI family and everyone wants you to strive to do your best. You don't realize how many young people work for VINCI and how spread out everyone is in the UK.
The DofE gave me the chance to meet different people with different roles in the company from, the UK Managing Director of VINCI Andrew Ridley-Barker, VINCI Facilities Director Tony Raikes, HR Director Colin Jellicoe. They were all willing to support us throughout the DofE challenge and strive to finish the program.
Some people will think the volunteering is the hardest part and the part they wanted to get done and finished. I really enjoyed my volunteering part and I still help out now every week. I used to go to Boys Bridge but stopped when I was 16. But doing the DofE meant I got back involved with it and still help out now.
I feel the DofE has given me more confidence as a person and to speak out more and stand out more on site. I am now more willing to take more on and if you do get stuck you have people in VINCI who are willing to help you as you have stood up and been counted.
The DofE has also given me another set of mates and even if we don't meet up all the time, we still email, text and try and meet up now and again. We always talk about the DofE challenge and I would encourage any young person to take part."
---
Sophia Forrest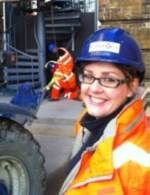 Role: Graduate Engineer
Start date:2006
DofE Award level Gold Award holder
"We need to support new people coming in to the industry. For me it's important to work with young people from all backgrounds, including young offenders looking for a second chance. In our jobs we are judged on the work we do and how we help the team, not our back stories.
I'd not heard of the DofE at all until I went to University and I thought it was something you did at school. Young people don't get enough encouragement to consider a career in construction. In my teens many people with no experience of the industry told me 'you won't do well as a woman', which is untrue.
My divisional director said his son had done it, and we should give it a go – I'd not heard of anyone doing the DofE through business before. The best thing about the DofE has been working with other young people still in education. I've really enjoyed being able to show others that the building industry is a great place to have a career.
Taking part in the volunteering section pushed me to get involved. Working with Samaritans has been one of the most rewarding experiences and I have DofE to thank for opening that to me. Taking part in the DofE programme is a great way to meet other people within VINCI and learn more about the business through them."