A record-breaking year for the Central England Region of DofE!
Our annual statistics reveal that 55,467 young people in the Central England Region started their DofE in 2022/23 and participants gave more than 619,060 hours of volunteering in their local communities.
The record-breaking numbers, published this month show that 96,060 young people are currently working towards their Award across the Region.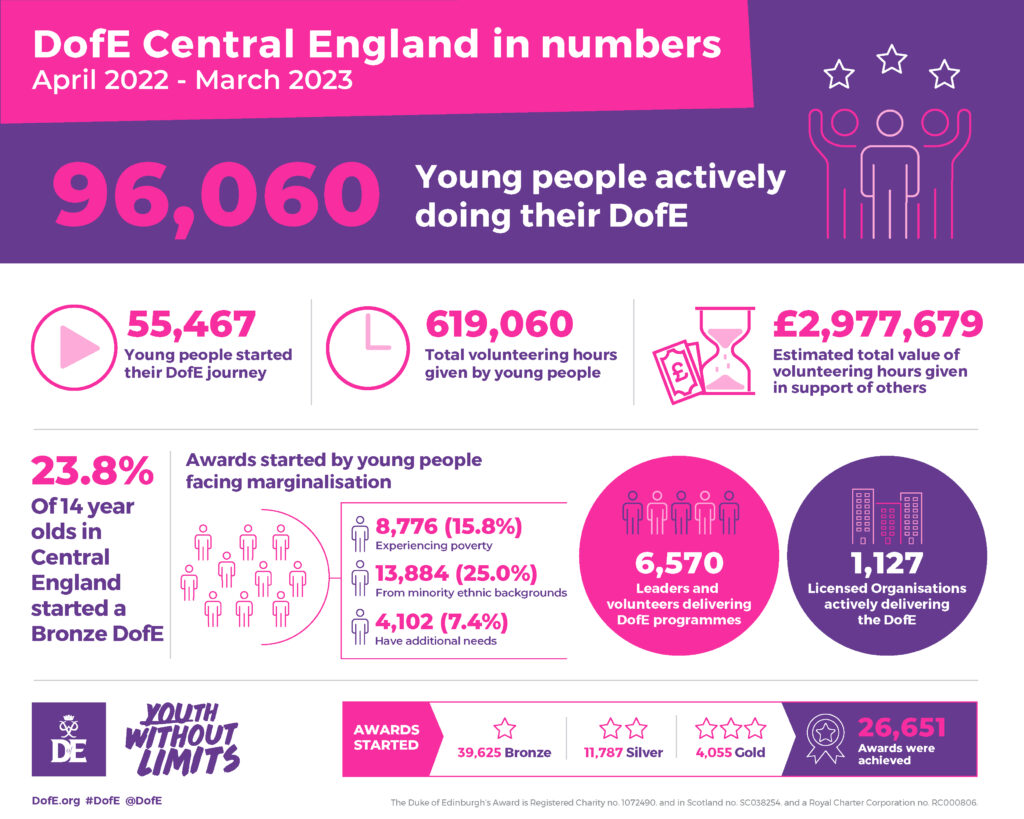 The figures mark the end of the second year of our ambitious national five-year strategy to reach one million young people in the UK by 2026 – with a focus on breaking down barriers for marginalised young people and reaching more schools in deprived areas, community organisations, further education colleges, organisations supporting young people with additional needs, and prisons and young offender institutions.
See our work in action:
Central England figures April 2022 – March 2023
Young people actively doing DofE – 96,060
Leaders and volunteers delivering DofE programmes – 6,570
Licenced Organisations actively delivering DofE – 1,127
Total volunteering hours given by young people – 619,060
The estimated total value of volunteering hours – £2,977,679
Total Awards started
26,251
Bronze – 39,625
Silver – 11,787
Gold – 4,055
Awards started by young people facing marginalisation
Experiencing poverty – 8,776 (15.8%)
From minority ethnic backgrounds – 13,884 (25.0%)
Have additional needs – 4,102 (7.4%)