Volunteering as part of DofE helped Amy stay positive
Having a project to focus on can be a great way to support your mental health during lockdown, as DofE participant Amy discovered when working towards her Bronze Award.
Amy, who is doing her DofE with Colmers School and Sixth Form College in Birmingham, found the Volunteering section particularly helped her mental health, as she got a sense of purpose from helping her local community during a challenging period.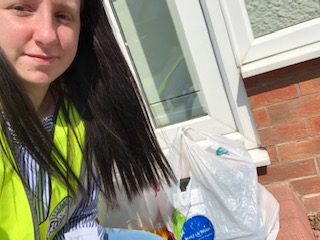 "I was originally volunteering at Rednal Hill Junior School's activity clubs. When the schools closed and we went into lockdown, my Mum started to make food parcels for isolated families and individuals. My Mum returned to work so I decided that I could volunteer and make up the parcels of food in her place and deliver them with my Dad."
Preparing food parcels also helped with Amy's Skills section where she had been working to improve her confidence and skills in cookery.
"As well as working towards my DofE it also helped with my mental health as my support had stopped because of the virus. My DofE activities kept me busy and helped me see there were other people in a harder situation than me."
For her Physical section Amy had originally been enjoying boxing and self-defence classes, but when lockdown prevented her classes from continuing, she swapped her activity to walking in the local area.
Her DofE Manager, Kerry said: "Amy is a wonderful young lady who has great character and strength. The DofE has been something she can really focus on and has given her the drive and passion to do lots of great things.
"She was so aware that others needed help and she showed great compassion and kindness to help support others. Amy is a real success story, and she has truly embraced all that the DofE Award stands for."