Bredon School – MariaMarina Foundation Funding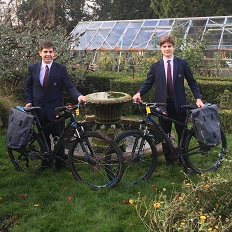 Bredon School, a dyslexia-friendly independent school in Worcestershire, has been able to increase their DofE Silver enrolments by offering mountain bike expeditions using the school's fleet of bikes.
With the help of funding from the MariaMarina Foundation, the school was able to cover the cost of seven sets of panniers and frames, and small bags to attach to the bikes.
When students discovered mountain biking was an option for the expedition, 10 extra students signed up along with another four who would usually not be able to take part due to physical needs. Unfortunately, due to the coronavirus outbreak, this year's expedition has not yet taken place; however, the pupils and staff are excited for when the expeditions will be possible again.
Andrew Lister, the DofE Manager at the school, commented on how well received the option has been: "We have had several parents contact us saying how pleased they were that we could offer mountain biking as this allowed their children to take part in the Silver Award; after walking for their Bronze Award they never thought it was going to be possible to continue on to the Silver."