Jack's lockdown litter picking is winning support of his community
Silver DofE participant Jack has won the support of his community after taking up litter picking for his Volunteering section during lockdown.
Jack is part of a team of volunteers in Lincolnshire who have so far removed 36 bags of waste from verges and public spaces in Upton Parish. As one the youngest volunteers he stands out for all the right reasons, and locals have been vocal in their support of his efforts, cheering him on while he's picking up rubbish.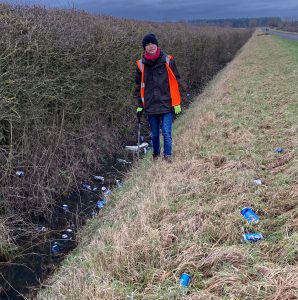 "I have had so much friendship shown to me. I've had shouts from cyclists saying, 'Good lad' and 'you're doing a grand job'. The local community support has been amazing. People have wanted to give me money, which I have declined and asked them to donate to the local foodbank instead – so that's another positive, which makes me happy."
Having completed the Volunteering, Physical and Skills sections of his Bronze Award and receiving his Certificate of Achievement, Jack decided to continue with his Silver.  For his Bronze DofE programme, Jack completed an online first aid course, supported a local church's 'Messy Church' sessions and worked on his running technique. Progressing to Silver has given Jack a chance to work on different things, swapping his activities to include sheep husbandry and cycling alongside his litter-picking efforts.
"COVID-19 meant the archery I had planned as for my Physical section can't take place. So, after looking online I've signed up to Pedal for a Medal, a virtual cycling event run over different months."
As well as improving his physical fitness and helping him support his local community, participating in his DofE has also been important for Jack's mental health. "DofE has enabled me to adapt to the virtual learning environment more easily and prevent cabin fever. It's given me a reason to get outside, exercise, enjoy and improve my local community. Volunteering was more difficult than when I did my Bronze Award due to COVID-19 restrictions. However, I have really enjoyed litter picking and taking pride in where I live."
Jack would encourage all young people to sign up for their DofE. "It's really rewarding – small things make a massive difference to you and the broader community. Just have a go, pick things that you enjoy and challenge yourself. It will give you valuable knowledge for job interviews and support your CV."