Oliver Morley-Smith – DofE Ambassador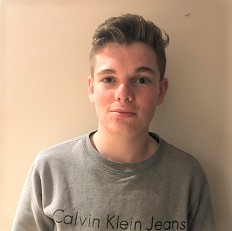 Oliver Morley-Smith is a DofE Ambassador at Lutterworth College in Leicester.  The role of the Ambassador is to support the delivery of DofE within a centre, which can also be used for an Ambassadors volunteering section.
Oliver enjoys promoting DofE at his College, he says "I believe spreading awareness of the DofE is very important. It helps young people build confidence and resilience in specific skills required to succeed and flourish in life. DofE helps conquer potential challenges and future obstacles."
Oliver says being nominated as a DofE Ambassador has helped him learn new skills and become more confident, stating "I am now able to present my ideas and thoughts more creatively". He and another DofE Ambassador have been working on creating and designing a DofE information access point. The access point displays quotes and experiences from DofE participants, it focuses on the impact the DofE has had on the participants as well as the community around them. In his spare time Oliver believes in giving back to his community, as well as playing badminton, he is often found helping in his local neighbourhood mowing lawns for vulnerable residents.
Oliver says, "I believe being a DofE ambassador has definitely had an impact on my confidence as I am now able to express my thoughts and opinions to numerous people in society."
Remember that being an Ambassador can count towards the DofE Volunteering section.
If you already have Ambassadors at your centre, don't forget they can still volunteer during this time and assist you remotely.