Isle of Wight Expedition Braves the Storm
Congratulations must definitely go to Thomas Walker, Linus Murphy, John Shambrook and Josh Lovett for completing their Silver Award over half term.
Unfortunately, their planned final 3-day cycle expedition coincided with the imminent arrival of storm Zeta. It was the remnants of ex- hurricane Epsilon that started in the Caribbean, a severe force storm and was predicted to be headed for the Isle of Wight.
The boys had completed a two-day practice expedition earlier in the half term (under Covid guidelines) that went according to plan. This left their planned expedition to circumnavigate the Island using bikes and carrying all their provisions. They decided to persevere with the challenge as the threat of a lock down period and not being able to complete their Award was more daunting than that of Madam Zeta.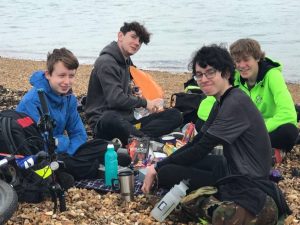 The first day was relatively kind to the team, seen here having lunch on Cowes beach. A tantalising aroma of cooking curry could be sensed wafting down the coastline. Their culinary expertise was to be admired by many passers-by. The day's journey concluded in Yarmouth as they prepared for the next mornings challenge. It must be said that Zeta dealt the boys a good lashing of rain as they were rampaged with storm force winds making progress difficult. Perseverance paid off and overnight their waterproofs were dried out as they faced a relatively quieter last day journeying. This was a challenging expedition that was well planned, and determination saw them succeed. As the boys now move onto the Gold Award, we wish them good luck and fair winds.
Congratulations also to Isaac Letherbridge, Poppy Morris, Amber Newman and Alanah Kingswell for completing their Bronze Award this week. Willo Corin, Wiktoria Miesikowska, Jasmine Archer, Eloise Smith and Georgie Gobby also completed Certificates of Achievement as they have completed all the sections required for their full Award during the lockdown but unable to do the expedition due to Covid restrictions. They will be able to finish the section next year.
– Alistair Bridle, DofE Manager, Island Innovation Federation