Walton High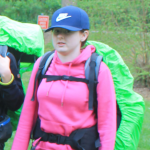 Kaitlyn is a very quiet 14-year-old girl who attends Walton High and would often be found on her own at lunchtimes.
Kaitlyn signed up for the Bronze Award in order to improve her confidence and make friends with her peers. Walton High had recently been awarded some participation places, which had been funded by Diamond Funding, meaning Kaitlyn was able to take part in the Award for no cost.
For her volunteering activity Kaitlyn chose to volunteer at a charity shop, she has said this section was the activity she enjoyed the most and she has chosen to continue volunteering in the charity shop every weekend, despite already completing her Bronze Award.
Kaitlyn's younger brother has ADHD and she has convinced him to enrol for his Bronze Award and she is helping coach him and his friends through the various sections.
Chris Cobb is the DofE Manager at the School and he says "Kaitlyn comes to school wearing the raincoat she was gifted for the expedition and underneath the coat sits her Bronze Achievers badge sitting proudly on the lapel of her blazer."