Volunteering for canal clean-ups gives Bronze participants a real confidence boost
Volunteering to keep their small part of the world clean and tidy has given Bronze participants at Oak Wood Secondary School a sense of pride.
DofE participants at the SEND school in Nuneaton have teamed up with the Canal and River Trust to keep the towpaths and waterways clear between bridges 17 and 20 on the Coventry Canal. They collected all litter, maintained, or reported damage to the pathways and cut back any overhanging branches making them safe for the public.
Participant, Daniel, said: "Getting out every week and cleaning the environment next to the school makes me feel very proud, people thank us all the time for the job we are doing."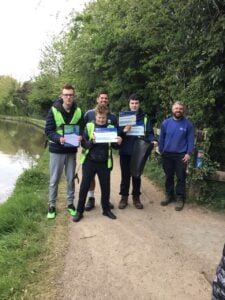 "We had training from Ben and Sue from the Canal River Trust showing us what to do and what to look out for. We litter pick and tidy up the canal path, cut back bushes and report to Ben and Sue any large bits of rubbish like a bike or trolley that's too big to carry, they then arrange for it to be collected and taken away."
"I have really enjoyed DofE and our Volunteering. We have enjoyed it so much that we have continued for the whole year and now have signs along the Canal letting everyone know that we take care of it. Sue and Ben are so pleased and proud of the work we have done they are sorting out a kayaking session on the canal which we are all looking forward to."
Oak Wood Secondary received funding from the DofE Resilience Fund for nine Bronze participation places, and the money meant the school was able to offer an alternative curriculum.
DofE Manager, Gez Murphy, said: "We have been able to get them off-site and undertake challenges they would not have experienced on any other course."
"We have an enthusiastic group who love the hands-on aspect of the award. Their confidence both as a group and individually has come on enormously. The enthusiasm they show and the way they speak about the programme reassures me of just how much they enjoy it and are benefiting through participating."