St Sampson's Award Achievements
St Sampson's High School, Guernsey, had a really exciting DofE Awards evening on Monday, 8th November. Over fifty students attended (59 achieved Bronze, 6 achieved Silver and have since left school but came back for the occasion and 3 took a Certificate of Achievement in at least two sections). They also had Awards presented by Guernsey's Director of Public Health – Dr. Nicola Brink – who has become a local celebrity having lead Guernsey through the pandemic over the last eighteen months or so.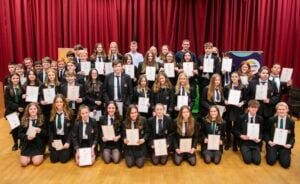 Parents joined the celebration along with staff who had helped out with the expeditions. It was really a fantastic evening had by all and we were so proud of each of our achievers. Seven students gave speeches about their experiences with some saying:
'I never knew that an all-day breakfast, a chicken tikka curry and a sticky toffee pudding could come from a bag and taste so delicious'.
'Why am I moving onto Silver? Because I can!'
'The Duke of Edinburgh Awards aren't easy, but they are a great achievement, and you learn so much, not just classroom stuff but social skills and teamwork, working together to get there – wherever there is!'
This year St Sampson's has over 70 students signed up to Bronze and 40 students signed up for Silver. Congratulations on your participants' amazing achievements!