Pre COVID-19 flashback: Kent celebrations before lockdown
As we begin another school term of social distancing and restrictions to activities across our community, it's wonderful to see so many young people choosing to start or continue their DofE journeys and we're proud to be supporting our partners' delivery during the pandemic using the DofE with a Difference flexibilities. It's been some long months since the start of Lockdown 1 when we could collaborate and celebrate together in person. We're taking this opportunity to look back at an event we were lucky to squeeze in before the April lockdown began.
In March 2020, DofE South East hosted a visit to Kent by HRH, The Earl of Wessex. During the day's three-event visit, The Earl and invited guests spent time with participants, leaders and headteachers from 32 organisations in Dover, Gravesham and the unitary authority area of Medway. Luckily, the day came a couple of weeks before the COVID-19 lockdown and we were able to go ahead, taking care to greet with smiles and nods instead of customary handshakes.
The Royal Visit was a welcome opportunity to showcase the diversity of delivery across Kent's schools and centres, to celebrate the hard work and success of organisations which are overcoming significant barriers to participation, and to promote the Awards to newer audiences who aren't yet involved with the DofE. It was also an ideal chance to demonstrate the charity's 'Experience List'; the list of 25 character hacks for young people that help them build confidence, independence and resilience, supporting their mental and physical wellbeing and life outcomes.
Our delivery areas in Kent are the most disadvantaged in the South East region; Kent's Directly Licensed schools make up 40% of the region's #iwill IMD 1-3 schools and these include settings where two thirds of students are eligible for Free School Meals. In addition to our marginalised reach in Directly Licensed Centres, Kent County Council supports further disadvantaged groups at SEND schools and centres through their targeted licence.
Despite the levels of marginalised and the associated barriers to DofE participation, our reach in Kent has grown significantly since the area transitioned to a 'Direct to Schools' model three years ago; nearly 90 Kent and Medway schools having licensed to deliver the DofE since 2017. Building successful and diverse programmes that reach into all communities of Kent is a rewarding joint effort between the our local delivery partners and our Ops Team who support operations and targeted projects made possible by funds such as the charity's Diamond-#iwill fund. It's these successes and diversity that we wanted to celebrate during the Royal Visit.
The day began at Dover Christchurch Academy where The Earl met groups from fifteen schools including grammars, academies, independents and special schools. Participants from four SEND settings told The Earl about their programmes, including a group which had just returned from their Gold Residential in Iceland. The Earl met young Ambassadors from three schools who talked about how they support their DofE Managers to deliver to younger participants. Finally, eight school groups showcased programme activities which are featured on The Experience List including Learn First Aid, Learn to Cook, Mentor Young People, Physical Challenge and Join a Club.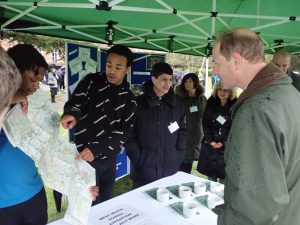 Pictured above: West Heath School
Next, the Royal group travelled north to the Medway Open Award Centre in Gillingham; a charity which delivers the DofE to non-school participants and provides an important low-cost expeditions service to many Medway schools and DofE groups. Here, The Earl and the Lord Lieutenant of Kent met adult and participant volunteers who run the centre, as well as school students and leaders who use the service.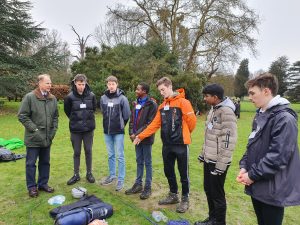 Pictured above: Gravesend Grammar School
After lunch, the Royal group moved on to Cobham Hall in Gravesend, an independent school that runs the DofE and which also lends out its extensive grounds to local state schools and groups for their DofE expeditions. Here, The Earl met 15 groups from mainstream schools, special schools and pupil referral units who demonstrated outdoor activities they practise for their DofE. Despite the pouring rain, participants and leaders showcased first aid role plays, sports drills, navigation challenges, campcraft exercises and expedition project work.
The Earl's visit ended with a Kent fundraising dinner at Hever Castle with entertainment provided by some of the county's DofE participants and Award holders.
Thank you to the Licensed Organisations who made the day so special!
Credits:
Christ Church Academy, Dover
Focus of this visit: overcoming barriers to participation in special education & disadvantaged groups, use of funded projects to overcome barriers, celebrating extended reach in south and east Kent, developing young leaders.
Invited guests included: Deputy Lord Lieutenant Kent – The Lady Colgrain; Chairman of KCC – Mrs Ann Allen MBE, Chairman of Dover District Council – Cllr Mike Connelly; Town Mayor of Dover – Cllr Gordon Cowan; Representing Chief Constable – Chief Inspector Elena Hall; Cab member for Integrated Children's Services KCC – Ms Sue Chandler; Head of NCS Policy, Dept Culture, Media and Sport – Fiona Stone.
Schools showcasing their SEND provision: Dover Christ Church Academy's Aspen Centre (expedition); Hope View School, Canterbury (tennis); St Nicholas School, Canterbury (gold residential); Foreland Fields School, Ramsgate (skills, volunteering and skills sections); Kent County Council (supporting special schools).
Schools showcasing their Young DofE Ambassadors: Brock Hill Park Performing Arts College, Hythe; Simon Langton Girls Grammar School, Canterbury; Dover College, Dover.
Schools showcasing their Skills, Volunteering and Physical activities on the Experience List: Ursuline College, Westgate (first aid); St Anselm's Catholic School, Canterbury (Drama & Music); St Edmunds Catholic School, Dover (learning to cook); Dover Christ Church Academy (mentoring young people); Roger Manwood's Grammar School, Sandwich (interact with nature & public speaking); Royal Harbour Academy, Ramsgate (sports leadership); Hartsdown Academy, Margate (sports leadership).
MOAC (Medway Open Award Centre), Gillingham
Focus of this visit: community service, community support & collaboration, developing young leaders, overcoming barriers to participation in disadvantaged area.
Invited guests included: Lord Lieutenant for Kent – Viscount De L'Isle; Mayor of Medway – Cllr Habib Tejan, Chief Executive of Medway Council – Mr Neil Davies; Cab Portfolio Holder for Education and Schools Medway Council – Cllr Martin Potter.
Licensed Organisations showcased: MOAC (kit store, community expedition service, adult volunteers, young leaders); St John Fisher School, Chatham and Robert Napier School, Gillingham (participants and Leaders using MOAC's services).
Cobham Hall School, Gravesend
Focus of this visit: breadth of local delivery locally; overcoming barriers to participation in additional needs and harder to reach groups; collaborative community partnerships.
Invited guests included: Deputy Lord Lieutentant – Dr Bhargawa Vasudaven; Mayor of Gravesham – Cllr Gurdip Ram Bungar); Chief Executive, Gravesham Borough Council – Mr David Hughes; Head of Youth Policy and Delivery, Dept Culture Media & Sports – Liam Nwanze; Deputy Lord Lieutenant – Mrs Jane Loudon; Open Access Service Manager North Kent at KCC – Christine Kiely.
Schools and settings reaching SEND and 'harder to reach' groups: Bradfields Academy, Chatham (Boccia – physical challenge); Abbey Court School, Rochester (first aid); Broomhill Bank, Tunbridge Wells (first aid); Will Adams Centre, Gillingham (campcraft); West Heath Special School, Sevenoaks (exploring bush tucker).
Mainstream schools showcased: Brompton Academy, Gillingham and Chatham Grammar School (first aid); Cobham Hall (hockey & orienteering– physical challenge and interact with nature); Wilmington Boys, Dartford (Rugby – physical challenge); St John Fisher, Gillingham and Rochester Grammar (navigation – interacting with nature); Rainham Mark Grammar School (campcraft – cooking for special dietary needs); Gravesend Grammar School (campcraft – packing for expeditions); St Georges School, Gravesend (20 conditions for expeditions); The Thomas Aveling School, Rochester (campsite games).