Residential adventures and achievement at St Nicholas School
St. Nicholas is a community day school for young people in the Canterbury district who have severe, profound and complex learning needs.
Offering all three levels of the DofE, St Nicholas currently has 30 students participating in their DofE programmes, with sectional activities including volunteering at Port Lympne Zoo, first aid training and playing golf.
In February 2020 three participants had the opportunity to complete their Gold Residential section in Finland, joining students from two other schools for five days of winter sports at the Pajulahti Olympic Training Centre.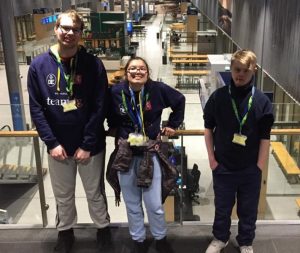 Harry, Chelsea and Gabriel
Throughout the residential Harry, Chelsea and Gabriel took part in a range of activities from sledge hockey and Alpine curling to downhill skiing and curling, as well as going on a trip to a ski museum and building their own campfire.
The goal for the residential was "for the students to be challenged by going abroad and interacting with others in various different winter sports" and this incredible residential gave the participants from St Nicholas the chance to meet and get to know new people, learning to collaborate and work alongside them as part of a team as they tried new and challenging activities.
Speaking about her biggest achievement on the residential, Chelsea said: "I think that I managed to help other students and staff while I was there. I helped some students at mealtimes and reminded some of the staff about things that needed to be done."
When asked if he would recommend DofE to someone else, Gabriel said, "I would say 'do it'!"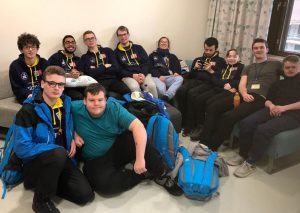 The school's Gold expedition will take place on a canal boat, with participants mooring, cooking and steering the boat downriver and through of locks, whilst learning about the history of the locks and boat maintenance skills.
After the great success of this residential, St Nicholas School plans to offer it to future Gold participants when COVID-19 restrictions allow. Kent County Council, the LO under which St Nicholas School is licensed, is hoping to open that trip up to other SEND delivery partners in the South East.