South East beach clean – watch this space!
Although the South East Beach Clean 2020 has been postponed, we are hoping to organise a 2021 clean! Check back for dates and information.
Who is it for:
– Young people, children and their families (under 18 to be accompanied by a responsible adult).
– Parents and adults wanting to find out more about the DofE.
– Teachers, Youth Workers and other professionals.
– Local environmental voluntary groups looking to recruit volunteers and network with others.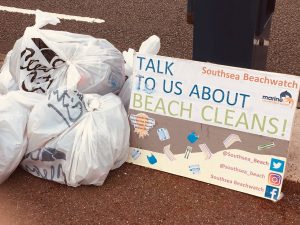 Date: TBA
Start Time: 10.00 (join anytime before 11.15)
Finish Time: 12.00
Meet up point: Southsea Beach behind The Pyramids Centre, Clarence Esplanade, Southsea, Portsmouth, PO5 3ST
Equipment:
– Bring warm clothes and sturdy footwear (no open toe sandals).
– Gloves or a picker (suitable for picking up waste with).
– Bucket or reusable bag to collect waste (this will cut down the number of plastic bags used).
Transport:
Walk, cycle, public transport, car shares.
Health & Safety:
– On arrival please come and check-in at the DofE stand.
– Dogs are allowed on the beach between October – May but please keep them under control at all times.
– Always use gloves or pickers to pick up rubbish or any washed up animals.
– Walk around the pier rather than under it.
– Do not attempt to pick up any needles, sharp objects or unidentifiable objects. Please notify a member of staff.
– Do not attempt to lift any heavy items. Please notify a member of staff.
– Do not overfill collection bags in terms of weight, start a new bag.
– Cover up any dog poo with stones rather than try to pick it up.
– Avoid the big rocks by the Pyramids as they may be slippery.
– Mind the water's edge.
– Don't put your hands in the bag once you've started putting rubbish in.
– Wear sturdy shoes.
– Do not touch any jellyfish even if they are dead.
For more information contact [email protected]