DofE Volunteering leads to Golf Success
With Volunteers' Week just passed, we are delighted to share the story of William McKay of Portslade Aldridge Community Academy! William's father wanted to say 'thank you' to The Duke of Edinburgh's Award for helping William develop, socially and mentally.
He says: Due to William's desire to successfully complete the Duke of Edinburgh program he has pushed himself to confront his social anxiety head on. William has volunteered to help out with the organising and running of the Sunday junior competitions at West Hove golf club. This role currently requires William to interact with juniors of all ages as well as their parents and coaching staff. William's social confidence has improved as a direct result, and it is very pleasing for my wife and I to see."
He goes on to explain what William has achieved through his volunteering: "William's commitment to the Duke of Edinburgh programme, and subsequent commitment to West Hove Junior golf, has earned him the unexpected privilege of being selected to play for the junior club team. This will be West Hove's first ever junior interclub match and William has been chosen as one of only four juniors to play. This is the direct result of the Duke of Edinburgh's Award."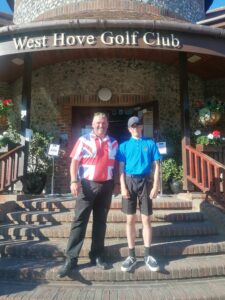 It's wonderful to hear about William's success and how volunteering and DofE has helped him develop himself and achieve fantastic success – we hope to hear more about his matches soon!