Standing out from the crowd: Gold DofE gives Wynter the edge
Bronze, Silver and Gold Award holder Wynter achieved her DofE at Christ's Hospital School in West Sussex.
"Before I started my Bronze DofE, I was already volunteering, playing sports and taking part in musical activities every week so the DofE felt like the natural thing to do.
"Choosing to complete my Bronze, Silver and Gold Duke of Edinburgh Awards was one of the best decisions I have ever made. It made me into the independent, confident, young woman that I am today. I especially loved developing different skills, trying out different sports and doing all sorts of volunteering for all three levels."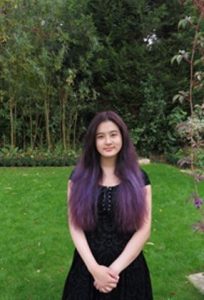 Throughout her DofE journey, Wynter volunteered in a dementia care home, at a youth club and in a charity shop, giving her a wide range of experiences which she found "rewarding as I actually felt like I made a difference in the local community."
As well as developing vital workplace skills through her Volunteering section. Wynter also believes that her "planning, teamwork and leadership skills learnt from the DofE are beneficial for any workplace environment."
Now studying chemistry and forensic science at university, the DofE gave Wynter "something to talk about at interviews" and she feels that it made her university application stand out, demonstrating that she had commitment, resilience and determination as well as the "teamwork and leadership skills needed for group projects at university."
As well as helping her prepare for her future, Wynter's DofE experience was also fun. "My most memorable experience was sleeping overnight in an abandoned tin-mine 300 meters into the ground in Wales. Growing up in London, I never thought that I would have the opportunity to go hiking and camp in nature.
"The DofE has been especially rewarding as it has given me a variety of soft skills as well as interesting things to talk about at job interviews. Through the DofE, I found a new passion for hiking and I now have the practical skills needed for planning routes safely, cooking with a Trangia and map reading too.
"I think that the DofE is especially important for young adults as it allows you to realise your true potential. I recommend that if you're unsure about DofE, just go for it! It's worth every moment."