Central England News
Local news from the Central England Region
Welcome to the second edition of the Central England newsletter. I hope you all enjoyed reading about the fantastic examples of DofE activity we shared with you back in January. This month I am pleased to be able to share good news with you from four of our centres across the region.
Below are two great examples of how funding can benefit your centre. It is wonderful to see how funding is being utilised to support participants' progression through the levels and enabling young people to access different opportunities. If you haven't looked at external funding streams to support your delivery of DofE programmes before, please speak to your Operations Officer who can point you in the right direction.
Congratulations to both John and Mia whose stories below show what can be achieved with dedication and hard work. It's really encouraging to see both of these young people sharing their fantastic achievements with you all.
Finally, I wanted to take the time to recognise the work of those who are helping young people to achieve their full potential. For this reason, we have featured John receiving his Long Service Award at St James's Palace in January. This year we have received a record-breaking number of long service nominations, which is testament to the commitment of all of you who run and support DofE groups.
Thank you all for your continued support and enjoy the good news!
Jackie Bull
Central England – Regional Director
---
College of West Anglia strives for Silver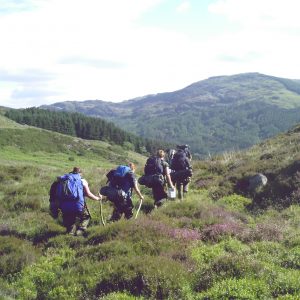 The College of West Anglia (CWA) is one of the largest providers of education and training in Norfolk and Cambridgeshire.
CWA was successful in receiving funding from the DofE for the 'Strive for Silver' project. The 'Strive for Silver' funding supports organisations to develop their skill sets and their programmes in order to offer progression opportunities to all young people. Until recently the College had only been delivering Bronze; however the funding has allowed them to increase participation and given participants the opportunity to progress to Silver. The delivery team is now feeling motivated and optimistic and is hoping to deliver Gold in the future.
Included as part of the funding are free participation places. These have been used to financially support selected students to participate in the DofE programme. The current DofE expedition stock was in a bad state of repair, so with some of the funding the College were able to purchase 7 new tents. The tents will be an excellent investment for the future as the number of young people accessing the award increases and the stock will be in higher demand.
Funding was also received to support five staff to access National Governing Body qualifications with all 5 completing their Lowland Leader Award Training. The College strongly support Continuing Professional Development of their staff and they have enjoyed the opportunity to teach, mentor and coach outside the classroom.
Lee Mallott, The DofE Manager, feels it is extremely valuable to both students and staff to offer the DofE. With additional equipment and more staff qualified The College now feels they have more opportunity to open up and offer DofE to more learners within CWA.
---
John makes it a hat trick with Gold Award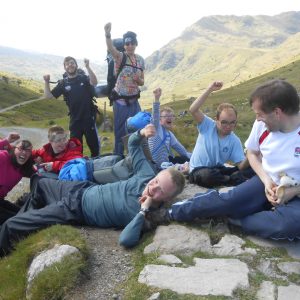 Derwen College in Shropshire is a Further Education College which provides residential education for students with learning difficulties and disabilities. They have been delivering the DofE since 2014 and DofE Co-Ordinator Stephen Evans; believes that the DofE programme complements Derwen College's vision of 'creating an enriched learning environment that enables students to transform their lives for the better.'
John Love is a 24-yearold student at Derwen College and has two types of epilepsy and developmental delay. He does not always know when a seizure will occur and this has resulted in John having low self-esteem, social difficulties and a lack of confidence in himself. Due to his condition he cannot participate in every-day activities unless he is supervised. However John has not let his disabilities hold him back and has successfully completed his Bronze, Silver and Gold Award.
John has been challenged throughout his DofE experience; and has shown positivity, determination and commitment throughout his award. He says 'DofE has allowed me to meet new people, have fun working together, see different scenery on expeditions and attempt new skills – like making a bug zapper! I found carrying a huge rucksack difficult, it slows you down, but I learnt to persevere. DofE will give me more opportunities for the future.'
John's parents are extremely proud of him and have said 'The experience of participating in group activities out in the community, planning and executing tasks and pushing the boundaries of his abilities, strengthened his confidence and helped him enormously in building his character.'
Congratulations John on achieving all 3 levels of the Award, we hope you have a fantastic day when you attend St James' Palace to be presented your Gold award.
---
Mia's fundraising for Diabetes UK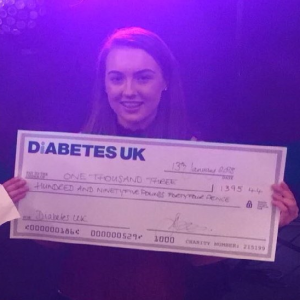 Mia Isgar is a Year 9 student from Southfield School in Kettering. For her Volunteering section Mia chose to fundraise for Diabetes UK, this is a charity which is close to her heart as her Mum is diabetic and needs to wear a medical alert bracelet.
Mia independently organised a fantastic event and raised £1,395.44. Mia chose to host a disco evening that included a quiz and games for participants as well as a buffet on the evening. She liaised with the venue, which kindly agreed to waiver the fee and negotiated the cost of the buffet to ensure all costs were kept to a minimum.
Mia asked her local community for donations so she could hold a raffle and was sent over 100 prizes. Local Rugby Club, Leicester Tigers RFC donated some gifts including 2 signed balls, executive box tickets and other merchandise from the club shop.
Mia successfully sold over 150 tickets for the disco and the evening was a great success and raised funds for a worthy course.
---
Maria Marina funding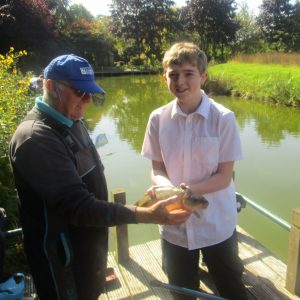 Southall School in Telford and Wrekin is a Community Special School which provides a curriculum which is both aspirational and challenging for students who have a range of moderate and complex needs.
The school has recently been in receipt of funding from the Maria Marina Foundation and the money has really had an impact on the DofE participants at the school. The funding has given students access to activities that they may not previously had the opportunity to participate in.
To help the participants work towards their skill section, they have been able to participate in fishing with the support of three adult anglers. A total of seventeen students have achieved their CAST Fishing Award (Stage 1) and took part in a friendly, yet competitive fishing competition.
Participants have also been able to develop their horticulture and craft skills, by fulfilling their volunteering hours at The Albrighton Trust. They have displayed their responsible, supportive and caring nature by building bug hotels and clearing the grounds for future projects.
Rob Davies, DofE Leader, rejoices in empowering those students who have a disadvantaged start to life. Rob is delighted with the funding and what the funding has enabled the participants to achieve, he wishes to thank the DofE and the Maria Marina Foundation for supporting disadvantaged young people.
---
Celebrating 36 years of service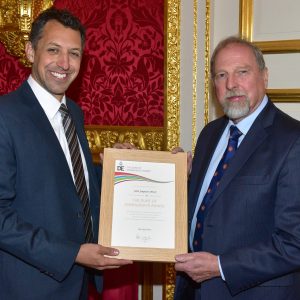 Until his retirement in January 2018 John had been involved with the DofE at Worksop College in Nottinghamshire for over 36 years and has been the DofE Co-ordinator there since 1982. During that time he has organised and assessed expeditions in many different areas of the UK and has led overseas expeditions to several Central and South American countries as well as to Kenya. Thank you John for all the years of support which you have given to ensure young people can complete their Award. We hope you enjoy a happy and well deserved retirement.
Please remember to send through any updates via social media @DofECentral or via email to [email protected]g we would love to see how you are getting on!