Amethyst Academies Trust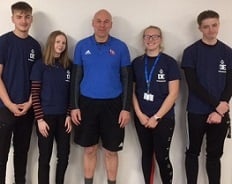 Andy Grimshaw is the DofE Manager for Aldersley High School and Moreton School, who are both part of the Amethyst Academies Trust in Wolverhampton.  Both schools are seeing a steady rise in Bronze and Silver participation and have recently started offering Gold Award.
With almost 300 young people across both schools taking part in the DofE, Andy has found the app has been a great tool to encourage participants to take more responsibility for their Awards and ensure evidence is uploaded quickly and efficiently.  Andy says "The evidence and sections can be uploaded very quickly and easily. The app is convenient and accessible because nowadays everyone is on their phone all the time outside of school."  He adds "with the ever-increasing numbers involved from the two schools I manage; the app has certainly reduced the amount of time I am chasing pupils for evidence and sections".
Dan Webster is an Ambassador for the Amethyst Academies Trust and part of his role is to encourage participants to complete their Awards. When Dan meets with the participants, he can sit with them and can quickly and easily see their progress on their phone apps. Dan says "using the app helps me to manage evidence much quicker. I can see the evidence and activities taking place and can support students, without having to worry about Assessor."