Newcastle and Stafford College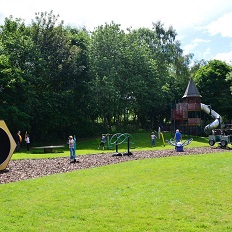 DofE participants from Newcastle and Stafford College have volunteered their time with local charity 'Our Space'.
'Our Space' is a charity that provides unique social and recreational opportunities for children and adults with disabilities. They offer a range of exciting activities to all ages and rely on volunteers to help run the service and maintain the extensive grounds.
Some of the learners at the College went to 'Our Space' as children and were keen to give back to the community. DofE Manager, Rob Sigley says "The DofE participants were asked to look after the grounds, clean the specialist equipment and tidy up the sensory area. The participants loved the work and after they had finished, they could really see the difference they had made".
Jane Smith from Our Space said "We were delighted to welcome the Newcastle and Stafford College DofE group to Our Space. The group worked very hard whilst they were here, helping to tidy the grounds, in particular tidying our sensory garden, and they also helped to clean our play equipment. The group worked really well together as a team and did a great job. We very much appreciated their efforts."