Noel Baker Academy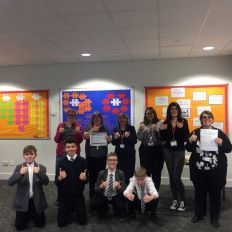 Antonio Dalziel is a Bronze DofE participant at Noel-Baker Academy. For his Bronze Volunteering activity, he has chosen to teach British sign language to students at his school, who in turn, can use this as their Bronze Skill activity.
Antonio is in Year 9 and has been signing since a young age. He has taken this training very seriously and has produced a weekly programme of what he is going to teach the other students. Antonio said, "I come from a deaf family: my dad, grandma, grandad, and great-grandad are all deaf. I learnt my first sign at 7 months (which was 'dog'). I want to be an interpreter for the deaf when I'm older. These lessons have been really good to share my skill with other people."
Antonio's mother, who works at The Royal School for the Deaf, has been in to the school to assess the students on their sign language progress so far and will return at the end of the course to sign them off as their Assessor.
A number of staff have also been going along to the sessions and learning with the students. This does not seem to have phased Antonio at all. Dawn Perry, one of the Science teachers said, "I am loving learning sign language; to be taught a new skill by someone so enthusiastic and full of praise is a joy. It has given me confidence already."
DofE Manager at the school, Jules Johnson, is currently part of the group learning British sign language and will assess Antonio's Volunteering section.
Learning sign language is a fantastic skill that can be learned from home during the coronavirus outbreak. For more details please visit The British Sign Language website.