NOA news
Do you have an article for the News page? Please email [email protected] we look forward to hearing your DofE stories.
Army Cadet Association
Congratulations to Shaun Murphy the Brigade Adviser for 51st Brigade in Scotland for running their inaugural Leaders Conference.
Shaun was also involved in running the ACFA National Open Gold Expedition in the beuatiful Trossachs.
Chief Fire Officer's Association
Congratulations to 14 Essex Police Cadets & 76 Fire Cadets for successfully completing a Bronze Expedition in the Roxwell/ Writtle area.
Royal Air Force Air Cadets
Not only were Air Cadets presented their Gold Awards at Buckingham Palace on the 17th & 24th May but they were also there in a helping capacity. Around 20 cadets were present on both days and provided essential support to the 36 groups of Participants and their guests, they were invaluable and we couldn't have run such an event without their help.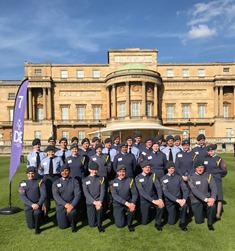 The Marine Society & Sea Cadets
Had a whole group of participants receive their Gold Awards at Buckingham Palace during the afternoon Presentation on 24 May.
Picture below shows the group posing with the DofE Manager Dean Jefferys, who was proud and honoured to share their special day.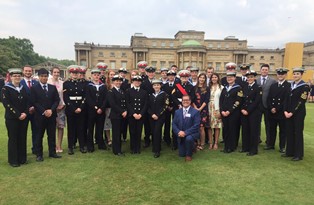 St John Ambulance
Held a mega training day for Leaders and our very own Ops Officer Michelle co-ordinated and ran the courses – Introduction to the DofE, Expedition Assessor Accreditation Scheme and Expedition Supervisor Training Course.
Five members also attended an Orientation course at Windsor HQ and are now fully equipped to run their own courses, we hope to see lots of new Assessors & Supervisors over the coming months.
Meet the NOA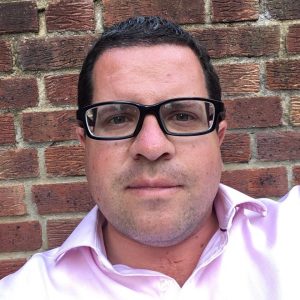 Dean Jefferys is the DofE Manager for The Marine Society & Sea Cadets and has a great background in all things DofE.
How long have you been involved with DofE?
I've been a Leader with the DofE for over five years, both as a School based DofE Manager, a former employee of the DofE and now as a DofE Manager again. I'm also a DofE Leader with The Scouts.
Are you a Leader/Supervisor/Assessor?
I'm currently DofE Manager with the Marine Society and Sea Cadets
What are your 3 handy tips for Expeditions?
Combine your Expedition Training in to one weekend – it becomes less onerous and far more practical and engaging
Choose your aims wisely, so they fit the whole team
Change all your Trangias to gas ones – they are far more effective and safer
What activities would you choose if you were to undertake the DofE?
I think I'd do swimming for my Physical, for my Volunteering I'd help with Sea Cadets and for my Skill I'd try out stand up comedy!
If you could travel anywhere in the world, where would you go and why?
I'd spend more time in the far east – I've been to Japan and Thailand before, but I'd love to explore more of Asia.
Sum up the DofE in three words:
Fun, Inspiring and Life-changing!