Dundee Licence celebration event at the City Chambers
The Lord Provost of Dundee, Ian Borthwick, welcomed guests to a Civic Reception in the City Chambers.
The event, which took place on 20 August, saw him present 8 schools across Dundee with a Duke of Edinburgh Licence Certificate.
Previously, certain schools in Dundee were licensed under Dundee City Council – but now 8 schools have become DofE Directly Licensed Centres – allowing them more flexibility over how they offer the award.
The Lord Provost said "This reception signifies great efforts by The Duke of Edinburgh Award  and also, more importantly, the young people who are endeavoring to achieve it."
When asked about what difference he thinks schools being directly licensed will make, he said: "I think it's going to be a catalyst for much more in the future, with the schools as a driving force"
Headteachers and DofE Manager's accepted the Licence Certificates alongside pupils from; Baldragon Academy, Braeview Academy, Craigie High School, Grove Academy, Harris Academy, Morgan Academy, St Johns RC Academy and St Pauls RC Academy.
As well as the 8 schools, a DofE Licence was also presented to the Community Learning and Development Team in Dundee. Joyce Kettles from Dundee City Council CLD accepted the award on their behalf.
DofE Scotland director Barry Fisher was present at the event, handing out the Licence Certificates alongside The Provost.
He said "DofE Scotland is delighted to welcome Dundee Schools to the network of organisations operating The Duke of Edinburgh's Award programme across the Country.  We are looking forward to working with the Councils on our shared ambition of growing the programme and reaching all young people that want the opportunity to take part."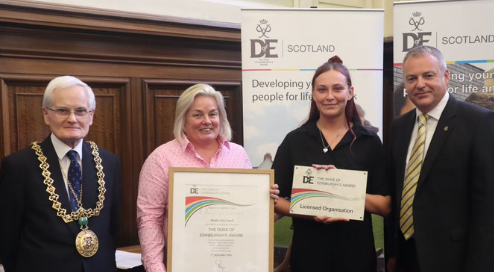 Ian Bothwick (The Lord Provost), Joyce Kettles (Dundee CLD) Nicole Anderson (Former Balerno pupil) Barry Fisher (DofE Scotland Director).