Are you looking for more DofE support?
School prefects, head boy or girl – why not add a DofE Ambassador into the mix?
How can they help your centre?
eDofE sessions made easy with more help.
Social media, website and newsletter – sorted.
"I will sort that kit store one day" – now is your chance!
Need a Bronze Leader? Any help chasing Assessor Reports is always needed.
Promotional events organised and run by the face of DofE.
What's in it for them?
Do an hour per week – volunteering activity sorted!
Tailor the role to their interests – event planning, content creation or leadership?
Take their CV or personal statement to the next level.
Develop leadership, mentoring and management skills.
Be the student voice for DofE.
Nominate up to two participants to be your DofE Ambassadors. They will be active Silver or Gold participants who have already completed a level of DofE (max two per centre/school). We take them on a one-day training course and send them back to you as a new DofE team member you cannot do without.
Help them to take their DofE experience to the next level
We are now accepting nominations from across the South East Region for active participants who have achieved either their Bronze or Silver DofE Awards (max two Ambassadors per school/centre).
Does it work?
Don't just take our word for it; DofE Manager Alan Wallis, of John Mason School, says:
"Our Ambassadors have been great in promoting DofE to year 10s. They help run the training events for Bronze participants and spoke at a John Mason Association Meeting which resulted in a cheque for £1000.00 to purchase new tents. The Ambassadors help me with registering participants and checking in evidence – they have become a valuable part of the DofE team."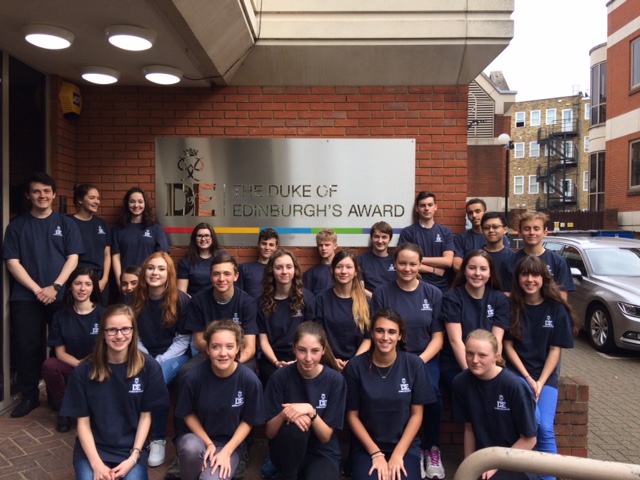 Training Dates Available:
14 September 2019 – Summit House, Gillingham, Kent
28 September 2019 – University of Surrey, Guildford
5 October 2019 – Dover College, Kent
12 October 2019 – Box Hill School, Surrey
12 October 2019 – The Judd School, Kent
19 October 2019 – BHASVIC, Hove
16 November 2019 – Island Innovation VI Campus, Isle of Wight
30 November 2019 – Priory School, Southsea
Please book on via our Training Page.