Welcome to the South West DofE Managers' page
We hope that you find useful information and resources here but, as always, if you have any further queries please do get in touch with us at [email protected].
As this page is for DofE Managers please can we ask that you do not share this link with anyone other than a DofE Manager.
---
In this term's update:
Enrolments
Expedition Assessor Bulletin
SW Managers Facebook Page
Bronze Expedition Trial
eDofE Updates
Gift Your Gear
New Recommended Retailers
Licence Fee Direct Debit Payment
Countryside Code
Staff Changes
Online Red Forms for Peak District Expeditions
South West Statistical Review 2017-18
---
Enrolments
Looking to get ahead for your next intake? Did you know that you can create participant eDofE accounts 2 months in advance of their start date? This allows you to promote, collect forms & payment to create participant accounts from July ready for them to start at the beginning of the new academic year. For further details please contact your Operations Officer.
---
Expedition Assessor Bulletin
If you are struggling to find an assessor, we send out a bulletin fortnightly during the main expedition season to assessors in the SW region who have signed up to receive them. If you would like to include your expedition in the bulletin please email the date, level, location and contact email for your expedition to Katie [email protected]
---
SW Managers Facebook Page
Check out the SW DofE Managers page on Facebook which a number of managers are already using. Please do use this to share resources, tips and handy hints with other local managers. https://bit.ly/2ECvkNy
---
Bronze Expedition Trial
A Bronze expedition trial has been launched in the last few weeks. For more information about the options for the trial and how to take part please visit the website: https://www.dofe.org/bronzeexpeditiontrial/
---
eDofE Directly Approve
Did you know that you can add 'Directly Approve' as a shortcut? Go to 'My Settings' & you can select 6 shortcuts for your home page.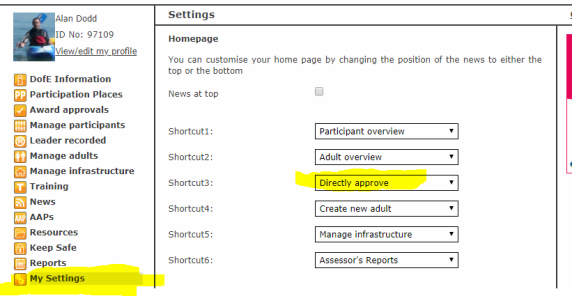 eDofE Training You can now see all expedition assessors who are linked to your Licensed Organisation under 'Training' then 'Training Search'. You can also see when they are due for reaccreditation. If you have any issues with this or have any questions please contact Tilly [email protected]
eDofE Gender Options & Password Reset Process
Participant Gender Options:
Participant now have four gender choices to identify with. Male, Female, In another way & Prefer not to say. Adults will now no longer need to set a gender when creating new participants.
Password Reset Process:
After extensive security testing the password reset process has changed. When a user requests a new temporary password, instead of being sent a temporary password users will need to follow a link sent via email to set a new password. As well as improving the security of eDofE, it should serve to mitigate the frustration of another user resetting your password by mistake (when they have entered the wrong username).
---
Gift Your Gear This organisation supports charities working with young people in the outdoors. They take donations of unwanted kit and offer them for free locally. It is worth following them on twitter as a number of our LO's have received donations this way: https://twitter.com/giftyourgear
---
Recommended Retailers for Expedition Kit
Have you heard we have new discounts for participants and leaders? GO Outdoors, Blacks, Millets, Ultimate Outdoors and Tiso are now our DofE Recommended Retailers of Expedition Kit. Take a look at the DofE Shopping website for further details. https://www.dofeshopping.org/card/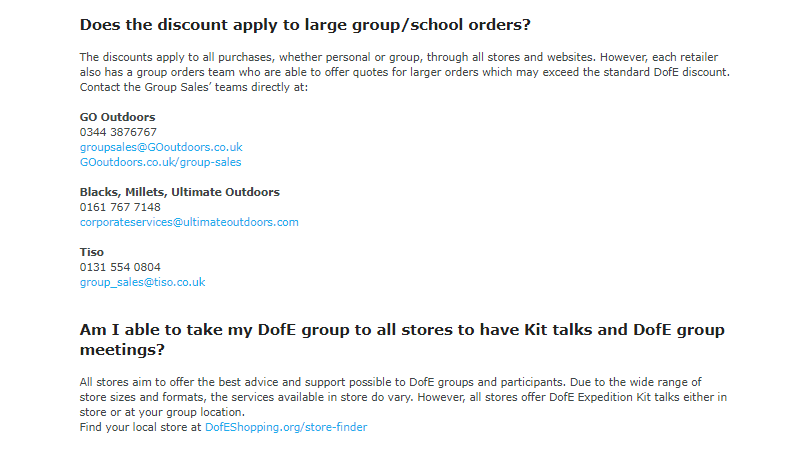 ---
Licence Fee Direct Debit
It is now possible to pay your DLC licence fee via direct debit. If you would like to get this set up please contact Catherine on [email protected]
---
Countryside Code
There have already been a number of issues on Exmoor National Park this season with DofE groups leaving gates open as well as problems with littering. Please do ensure your groups adhere to the Countryside Code.
---
Staff Changes
We've had a number of new staff join the SW team in the last few months. A staff chart is below which shows the new team.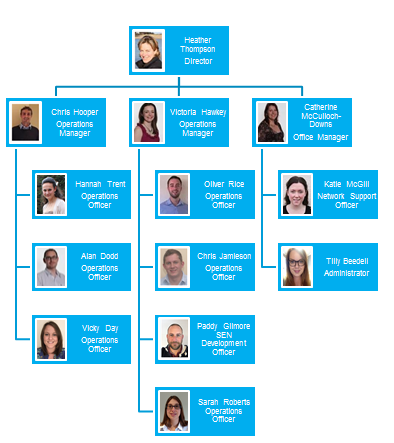 Chris Hooper – Bath & NE Somerset
Hannah Trent – Bristol, North Somerset, South Gloucestershire
Alan Dodd – Cornwall & Plymouth
Vicky Day – Devon, Torbay
Victoria Hawkey – Swindon
Oliver Rice – Somerset, Gloucestershire
Chris Jamieson – Wiltshire, Bournemouth
Paddy Gilmore – SEN centres
Sarah Roberts – East Devon, Poole, Dorset
---
Red Notification Forms – Peak District
The DofE Central Office are now accepting Red Forms (for expeditions in the Peak District) online. The online notification link can be found here:
https://www.dofe.org/notice-boards/central-england/red-form-notification/
The old version of the form is still accepted this season, but do use the online option if possible.
---
South West Statistical Review 2017-18
Thank you to all our Licensed Organisations that have helped to ensure that more young people than ever embarked on their DofE journey. Please see the link below for our statistical report for 2017-2018.
South West Statistical Review 2017-18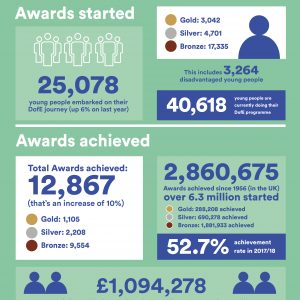 ---
DLC Managers Meetings – 2017
We hope you enjoyed your day at the Manager Meeting. Here is a list of resources used or discussed in the meeting, available for you to download.
Resources
Workshop Resources
eDofE
Please note that if you are having problems accessing eDofE it is worth checking the status page accessed here
DofE Manager Meeting Powerpoint 2017
Here are the slides from the morning Regional Update: DofE Manager Powerpoint 2017
Programme Pandemonium Feedback
Click below for a list of the ideas compiled from the programme pandemonium workshop – worth looking over for some good ideas!