Welcome to the South West DofE Managers' page
We hope that you find useful information and resources here but, as always, if you have any further queries please do get in touch with us at [email protected].
As this page is for DofE Managers please can we ask that you do not share this link with anyone other than a DofE Manager.
---
In this term's update:
Enrolments
New enrolment form
MTF Training Courses
Award Achievements
Manager Meetings November 2018
SW Managers Facebook page
DofE South West staff team
Green & Blue Expedition forms
---
Enrolments
It's the start of term so a quick reminder that you need to create participants on eDofE before 3rd November in order to roll back the start date to the start of term (there is a limit of 8 weeks to roll back the start date).
---
New Enrolment Form
In light of the requirements of GDPR, and taking into consideration the information requested in eDofE, we have refreshed the sample DofE Participant Enrolment Form.
It is available to download here: Sample enrolment form (participants)
---
MTF Training courses – Autumn 2018
South West adult training courses for the Autumn term are now open for bookings. We have a range of courses across the South West region including Introduction to the DofE, Expedition Supervisor Training Course and Expeditions Assessor Accreditation Scheme courses. Following the successful trial of the DofE Expedition Skills (DES) Course in October, we hope to be running more DES courses in the New Year. MTF courses are now booked online via the website.
---
Award Achievements
We currently have over 1,400 Awards awaiting approval on eDofE in the South West, so please do encourage your Award Verifiers to login and verify any Awards waiting from over the summer holidays.
We also have over 500 Assessor reports waiting for approval so do login and check your alerts on eDofE as lots of reports have come in over the summer.
---
DLC Manager Meetings – November 2018
The dates are now available for the upcoming DLC Manager Meetings in November. Please respond to the email invitation by 28 September with your preferred choice of date. It is a license requirement for the DofE Manager to attend one of these meetings. It is also a great chance to find out the latest news about the charity and network with colleagues.
6th November, Merley House, Wimborne, Dorset, BH21 3AA
8th November, Wycliffe College, Stonehouse, Gloucestershire, GL10 2AF
13th November, China Fleet Country Club, Saltash nr. Plymouth, PL12 6LJ
16th November, Chippenham Sports Club, Chippenham, SN15 1NG
20th November, Flybe Training Centre, Exeter, EX5 2LJ
22nd November, BAWA conference centre, Bristol, BS34 7RG
---
SW Managers Facebook Page
Check out the SW DofE Managers page on Facebook which a number of Managers are already using. Please do use this to share resources, tips and handy hints with other local Managers. https://bit.ly/2ECvkNy
---
Staff Changes
Over the summer we have had a few staff changes to the South West team. Oliver Rice has relocated to our London office having been promoted to the role of Operations Manager; we are currently recruiting for his replacement – for an Operations Officer for Gloucestershire (Vacancy advertised here). Rhyanna Bunniss has just joined us as Operations Officer for Wiltshire and will be taking over from Chris Jamieson who sadly leaves us at the end of November.
A staff chart is below which shows the new team.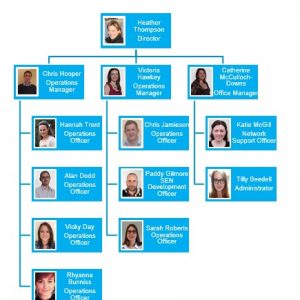 ---
Green and Blue Expedition Notification Forms
In compliance with GDPR we have updated our Blue and Green forms to reflect the new requirements regarding the use of personal data.
You can download the new forms from the website here