Welcome to the DofE in Scotland
Respect the interests of other people. Care for the environment. Take responsibility for your own actions.
With an ever-increasing number of young people choosing to do their DofE, we all have a responsibility to protect the countryside for other users and future generations. The Scottish Outdoor Access Code provides guidance on the responsibilities you have when accessing the Scottish countryside. Here are five ways to respect the Code when on DofE expedition.
1. Leave gates as you find them
A farmer will normally close gates to keep farm animals in, but may sometimes leave them open so the animals can reach food and water. Leave gates as you find them or follow instructions on signs. Leaving a gate open if it was shut could let animals stray onto dangerous roads.
2. Leave no trace
Protecting the natural environment means taking special care not to damage, destroy or remove features such as rocks, plants and trees. They provide homes and food for wildlife, and add to everybody's enjoyment of the countryside. Litter and leftover food doesn't just spoil the beauty of the countryside, it can be dangerous to wildlife – so take your litter home with you, and help protect our environment by removing any other litter you see.
3. Respect livestock
Farm animals can be daunting, but they are likely to be just as scared of you as you are of them! Keep to paths and pass animals calmly and quietly to avoid disturbing them – and please do not feed them.
4. Take care around crops
We are lucky to have free access to routes across farmland throughout Scotland. To avoid damaging crops keep to unsown ground, field edges or paths. Damaging crops costs farmers money.
5. Respect bothies and other buildings
Bothies can provide important shelter in bad weather, during emergencies or as a meeting point with your Supervisor. Please treat bothies with respect and do not leave rubbish or write on the walls. Find out more in our Bothies info sheet, or visit the Mountain Bothy Association website. You can also become an Association volunteer and help keep bothies in good condition for other hillwalkers.
DofE – Inspiring Career Choices
Got your exam results and deciding what's next? Look to your DofE activities for inspiration. Both Cora and David found inspiration for future jobs in their DofE programmes. Read their stories below. If you're still looking for ideas, check out the LifeZone. We have tips for making the most of your skills and advice from top employers.
David's inspiration
"I wasn't doing the best in school, so I was offered the chance to do my DofE Award to keep me interested in school. Compared to sitting inside in a French class it was great. If I hadn't had the opportunity to do my DofE I probably wouldn't have stayed in school. I was grateful for the experience.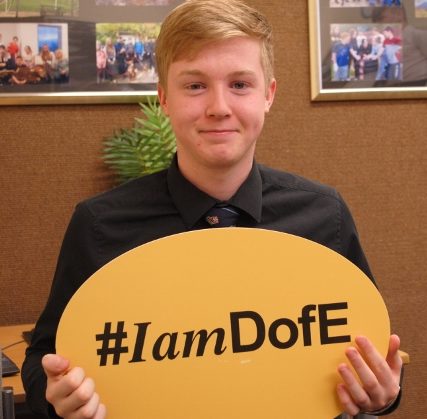 After I achieved my Bronze, Silver, and Gold DofE Awards I left school and tried a few different jobs when I heard about a Youth Work Modern Apprenticeship with the Council. My DofE Leader Norrie helped me all the way through school and I wanted to return the favour to other young people, so I applied. It was really quick. I did a phone interview two days after I put my application in and I got the job.
I think that having my DofE Award really helped me in the interview. I spoke about what I did for my DofE volunteering because that was the experience they were looking for.
I'm only a month and a half into the apprenticeship, but I've noticed how important the teamwork skills I learned in my DofE are. I didn't realise before how much what I learned doing my DofE transfers into working life.
Now I'm working with young people who were like me before I started my DofE. I hope I can help them get themselves back on track the same way I did."

Cora's inspiration
"Doing my DofE, especially my Physical section, led me to my choice of course at university – sport and exercise at Abertay. I would like to be a PE teacher and once I am working in a school I would really like to be a DofE Leader. My Leaders were passionate about the DofE and helping me through it and that really made an impression on me. I'd like to be able to do the same for my students."