Tennis Challenge 2018
In 2018, HRH The Earl of Wessex took on a challenge to play at every Real Tennis court in the world and raise funds for The Duke of Edinburgh's Award in the UK and abroad.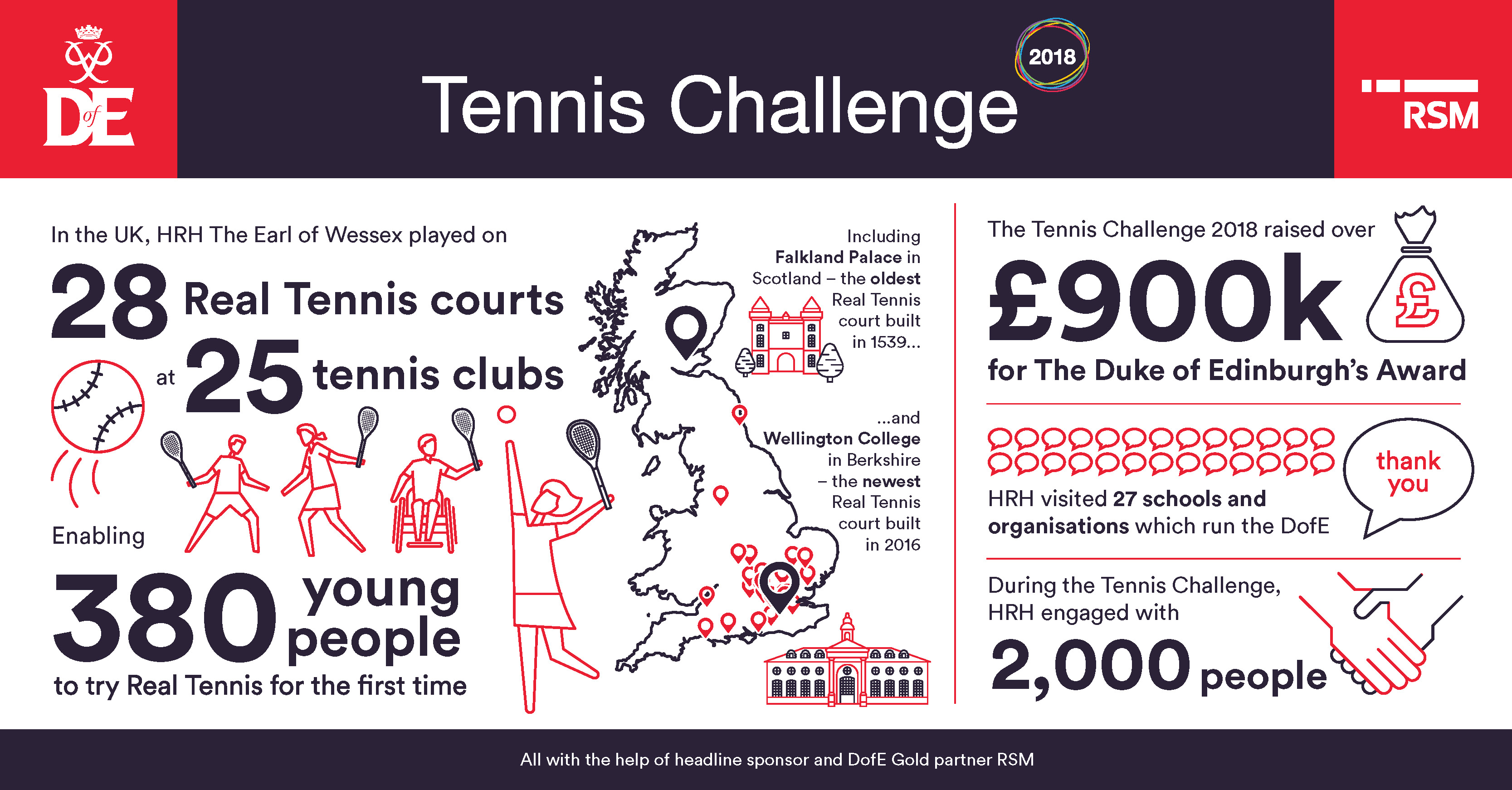 There was an incredible response from clubs, players, DofE supporters and schools to help with visits, matches and fundraising events across the UK.
Starting at Cambridge University Real Tennis Club in January and finishing at the Royal Court, Hampton Court in November, over the course of the year HRH The Earl of Wessex played 151 matches across five countries, with 453 players, on 50 Real Tennis courts at 45 clubs.
Speaking after his final match, he said: "The Tennis Challenge has exceeded everyone's expectations. The tennis clubs have risen to the occasion, far more people have turned out to support; and local DofE centres have responded brilliantly to the opportunity.
"Thank you, one and all, for demonstrating the DofE spirit across the UK."
Tour venues:
Cambridge University Tennis Court (2 courts) – January 2018
Bristol Real Tennis Club – February 2018
Holyport Real Tennis Club – February 2018
Manchester Tennis & Racquet Club – March 2018
Queen's Club (2 courts) – March 2018
MCC, Lord's Ground – March 2018
Seacourt Tennis Club – April 2018
Petworth House Tennis Club – May 2018
Newmarket Real Tennis Club – May 2018
Radley College – May 2018
Canford School – June 2018
Hardwick House – June 2018
Oratory Tennis Club – June 2018
Hatfield House Tennis Club – June 2018
Hyde Tennis Club – June 2018
Prested Hall Racket Club (2 courts) – July 2018
Fairlawne Estate – July 2018
Falkland Palace Royal Tennis Club – July 2018
Leamington Tennis Court Club – September 2018
Moreton Morrell Tennis Court Club – September 2018
Wellington College Real Tennis Club – September 2018
Jesmond Dene Real Tennis Club – October 2018
Oxford University Tennis Court – November 2018
Middlesex University Real Tennis Club – November 2018
Royal Tennis Court, Hampton Court – November 2018
Headline sponsor: