Inspired by The Experience List
Following the launch of 'The Experience List', our definitive list of 'character building' activities and experiences that every teenager should have the chance to take part in before leaving school, we asked Dot Hakim, a Gold Award holder, what they thought of the List and which experience they would most recommend.
To build the list, we surveyed more than 4,000 people including members of the public, business leaders, education professionals, parents and young people. We asked people what they thought built character and using this insight, created a positive guide that anyone can follow.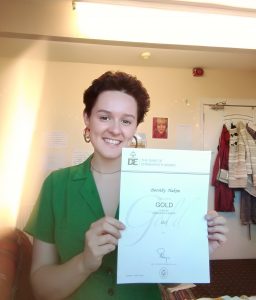 Dot says:
For me, my stand out experience on The Experience List, is: Become a mentor to someone younger.
When I interviewed for my current role in the Civil Service, I remembered how doing my Gold DofE gave me the opportunity to train as a Girlguiding Guide Leader. Leading and mentoring a group, instead of just being in one, had a lasting impact on my confidence, gave me something to look forward to and cleared my mind in difficult times. I think it helped me to secure the job too.
As well as seeing the benefits of being a mentor in building my own character, I have seen how mentoring can also build character in the young person being supported, which is why I rate this experience so highly.
Whilst doing my DofE programme, I was faced with a lot of personal challenges. Life at home was very difficult, especially when my relationship with my family became so strained and toxic that I ended up temporarily homeless. On top of this, I was battling with an eating disorder, bipolar depression and PTSD.
I persevered with achieving my DofE Award. I felt like it gave me stability and routine, where there otherwise was little in my life, I enjoyed the activities and I also gained a support network, who, perhaps without realising, mentored and helped me to develop self-love and compassion, consider steps to overcoming my eating disorder and taught me to learn to accept when life doesn't go as planned.
For my Gold Award residential, I took part in a big archaeological excavation. I met people from all walks of life, who I wouldn't have met otherwise. A lot of the people I spoke to were much older and mentored me, by giving me kind advice about my personal situation at the time. Hearing from people who had had a lot of tough life experiences really gave me perspective and hope that I could cope, and even thrive, in my life.
Leading a Girlguiding group and being mentored myself, were just part of my DofE journey. Doing the DofE gave me the opportunity to try things that I otherwise wouldn't have been able to do – another reason why I'm supporting The Experience List – a checklist of 25 of the best character hacks for teens.
I now hope I can be a positive influence for other young people and through talking about The Experience List, young people will be inspired to go and try something new. Stepping outside of my comfort zone, doing something a little bit different and not giving up made me who I am.
Hold on to your goals, support network and dreams through everything – it will make you even more proud to have achieved them.