How to: manage your time
We know that there are loads of demands on your time, and you may be worried about how to fit your DofE in around academic studies, work and other commitments. We've put together five handy hints and tips to help you manage your time and complete your DofE.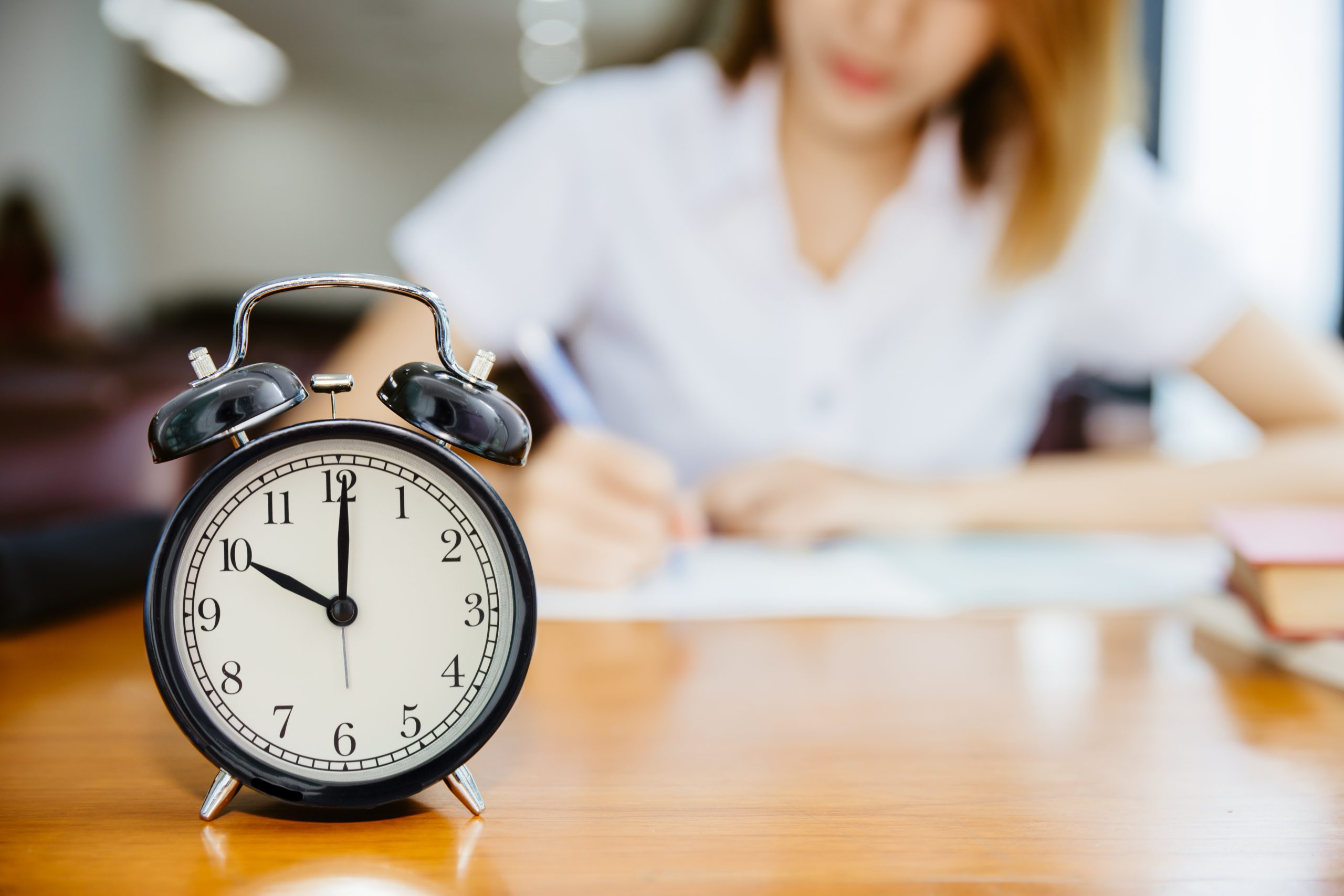 Audit your time 
There are 24 hours in every day, but sometimes it can feel like time just disappears. It's helpful to have a look at how you're already spending your time – there may be a difference between the way you think you spend your time and the way you actually spend your time. There may be more time available than you realise.  
Write out how long you spent on different activities, including breaks and blocks of time spent not doing very much. Where are the gaps? Can you move things around to do them at times when you know you are most productive?  
If you're thinking about what to do for your DofE, you may already be doing activities that would count towards your sections; you don't necessarily need to add more to your week to achieve your DofE. When you audit your time, look out for activities that appear on our ideas lists and speak to your DofE Leader if you're unsure.  
Plan 
At the end of a Sunday think about the week ahead and what needs to be achieved. Do you have any big pieces of work that need to be finished or a specific event to prepare for?  
Use our new DofE weekly planner to map out what you need to get done and make sure that you have time available for everything. Planning helps to avoid last minute stress and can also help you think about your big weekly goals.  
As well as planning for the week, looking at the shape of individual days can be a great way to make sure that you stay on track. Daily plans can provide space to break down some of your bigger weekly tasks into smaller more manageable segments, and help you make the most of the time available. Our new DofE daily planner has space for a daily timetable and to-do list; as well as the big things, make sure you factor in time for the little tasks, like uploading evidence to eDofE. 
At the end of the week, review whether the time blocks you set aside for certain tasks were realistic; if they were too short or too long, you can learn and adapt for next time.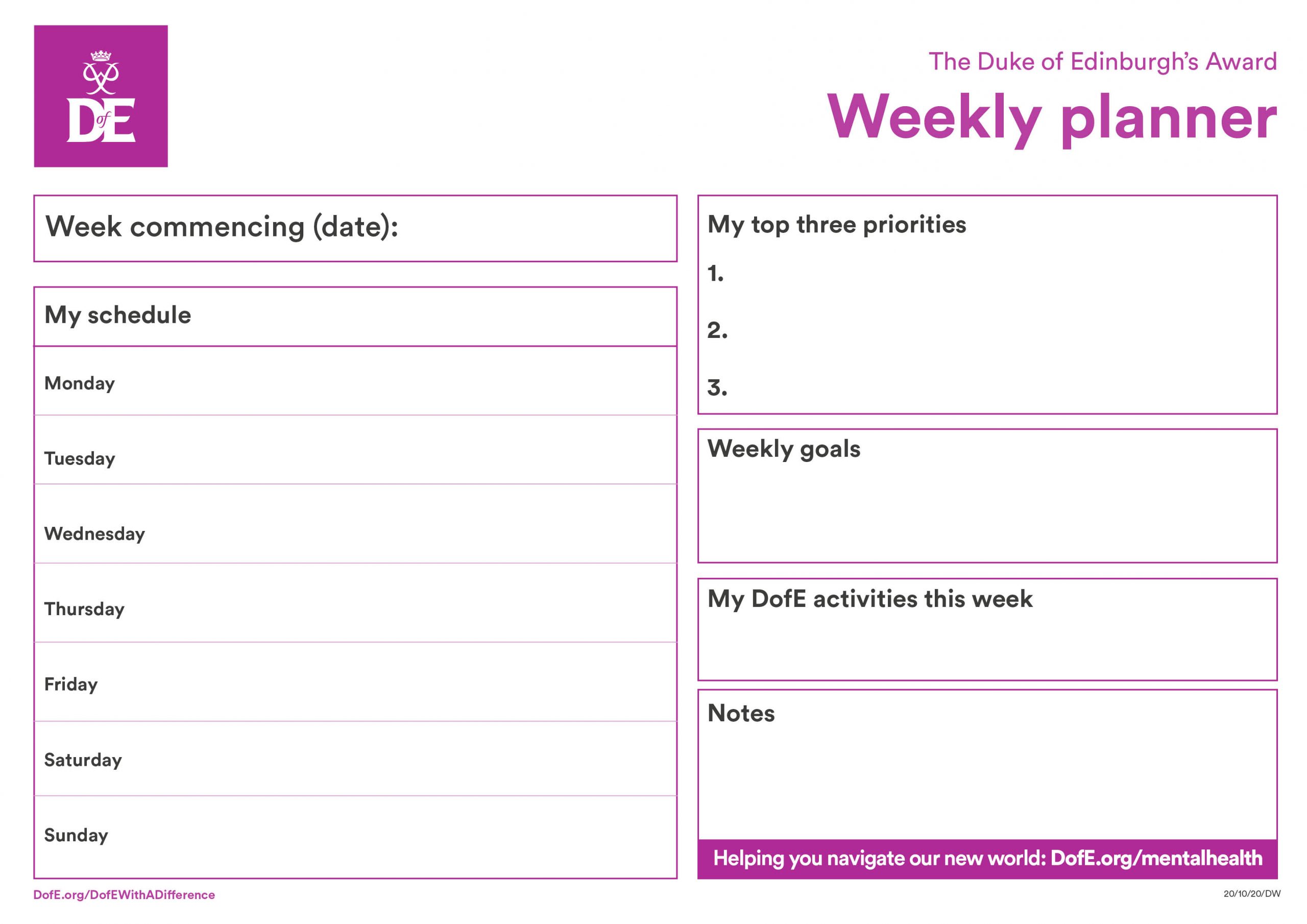 Routine 
Routines may seem boring (and we all like to be spontaneous sometimes) but having structure in your week can really help to make the most of your available time. 
Your DofE activities are a great way to keep routine in your week – it may be that you call your elderly neighbour for a chat every Monday evening for your Volunteering section, or you learn to cook a new meal for dinner each Thursday for your Skills section. Although some of your DofE activities may be online or done from home, setting aside the same time each week will help you make sure that you always get them done and never feel panicked that you're behind.  
Factor in physical exercise 
It can be difficult to find time to exercise when you're juggling lots of other things, but exercise is critical for both your mental and physical wellbeing. Exercise is known to boost your mood and help with concentration and focus, so when you're trying to fit lots of things in, exercise can give you a lift. Doing your DofE Physical section can help to ensure that you're not only doing an hour a week of exercise but also that you're developing your ability in your chosen activity.  
Avoid distractions 
When you're working on something, try and  avoid distractions, as these may stop you from being as productive as you could be. If you don't need it for the activity you are doing, try switching your phone off or muting notifications.  
Time management is a great skill that will help you throughout your education and working life. Achieving your DofE will demonstrate to people that you've been able to manage your time and show your dedication and commitment. 
Remember, if you complete your Volunteering, Physical and Skills sections you'll receive  The DofE Certificate of Achievement to formally recognise your achievements at this extraordinary time, even if you can't yet do your expedition.