Read how Phoebe switched to learning British Sign Language online
Phoebe had already decided to learn British Sign Language (BSL) for her Gold Duke of Edinburgh's Award Skills section before the coronavirus outbreak began. She planned to attend a face-to-face course but, determined not to let the current situation stop her from achieving her goal, Phoebe signed up to an online beginners' course instead. 
"With spare time on my hands I thought I should sign up, learn a new skill and get a head start for any face to face course I do later. So far, I've learnt the alphabet, colours and numbers and I'm looking forward to moving on to conversation topics soon." 
Having witnessed the accessibility issues deaf people face day-to-day, Phoebe wants to use her knowledge and skills to become an advocate and supporter for deaf people: 
"Learning sign language has made me more aware of challenges for deaf people in society. I've been on a train before and a deaf passenger was unable to communicate with the conductor. I'll now be able to help in that situation." 
She also hopes it will help enhance her employability. Her ambition is to work in the third sector and learning BSL is already improving her communication skills and understanding of the complexity and diversity of language, which will be beneficial when communicating with both deaf and hearing colleagues.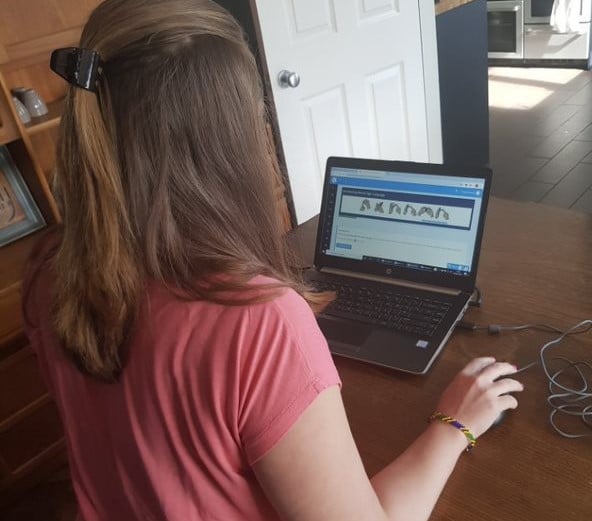 In addition to her Skills section, Phoebe has adapted her volunteering activity. Prior to the pandemic, she arranged social walks for St Augustine's Centre in Halifax, a charity that helps refugees and asylum seekers. The walks provided a support network for people who use the centre and an opportunity to practice speaking English and learn about the local area. 
"I am now phoning centre users to check in with them, offer social support and signpost them to any additional help they may need. I am keeping in touch with fellow volunteers via 
Zoom meetings and our aim is to ensure that no one feels alone or unsupported at this time." 
Reflecting on her #DofEWithADifference. Phoebe offers advice to other young people considering how to continue their DofE: 
"Be creative! There are many activities you can do from home and organisations are coming up with incredible ways to continue your efforts virtually. It's hard to stay motivated when you're on your own, so maybe get your family involved or do an activity remotely with a friend and share weekly updates on how you're getting on."