Staying connected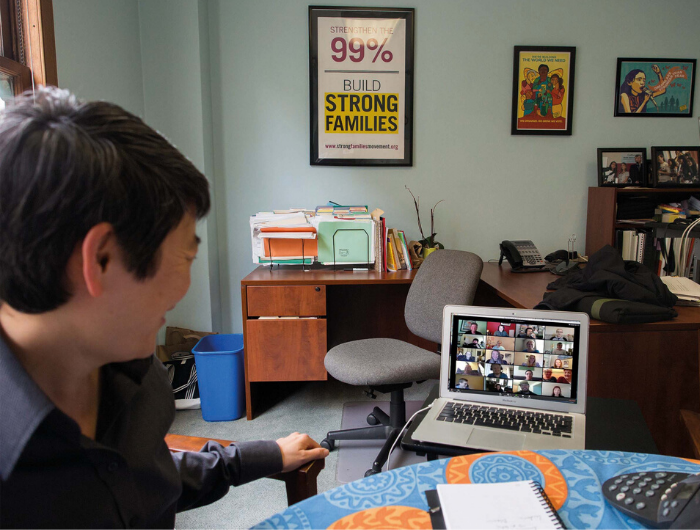 In these days of self-isolation, it's important that we stay connected for the sake of our mental wellbeing if nothing else. There are many digital platforms available to help you stay in touch with your fellow Leaders and participants during this time. 
eDofE's messaging service, plus your school's usual email method is always your first port of call in communicating with your participants, but it's worth thinking about video conferencing.  
Before you set up any video meetings, remember to think of your Licensed Organisation's safeguarding policies. It's a good idea to contact the parents of under 18s to get their permission for video conferencing and you should never have one-to-one video calls with young people. The Small Charities Coalition has a page on remote working, with useful advice.
NOTE: The DofE does not support nor endorse any of the systems listed here. Please ensure that you observe all possible technical, security and safeguarding procedures if using any of these systems. 
Zoom 
You can use Zoom to run virtual video/audio meetings, enabling all to see 
each other at the same time and interact. You can record meetings for viewing later, which is useful if people are unable to attend a session. You can share your screen so you can talk through a PowerPoint presentation, route card etc.  
Their free plan allows you to hold meetings for up to 40 minutes in length and for up to 100 people. Tips: set a password for the meeting; ensure only the host can screenshare; use the waiting room and lock the meeting once started. Advice on setting up Zoom can be seen here. 
Google Hangouts 
Google Hangouts is a free messaging platform that lets you message contacts using text, audio and video, either one on one or in a group.  
You need a mobile number to sign up on your phone and a Gmail account to sign up on your laptop or desktop. Group calls of up to ten people at a time and you can save the history of all calls for later use. 
MS Teams 
A very popular platform, especially for adults, but many schools are also using this during the current crisis. As administrator you can set up individual teams – such as 'Bronze Group' – and add the emails of each member you want to be involved. 
You can set up meetings and send out invitations to members to join for online discussions, training, etc.  
Cameras and microphones can be turned on or off, you can upload documents, share your screen during a training session and have general text-only chat sessions. 
Facebook Groups 
This is a great way of communicating with members of a group. Non Facebook members can easily create an account which they need only use for accessing your group. You should set up a 'work' Facebook profile to admin the group, which is separate to your personal one, to ensure there is no crossover between your personal life and DofE work.
Ensure your group is set to 'private' or, better still, 'secret'. If a private group, people can search for your group's name, apply to join and answer questions you as admin have set. You can post videos and encourage discussion and banter.  
If you're concerned about inappropriate posting simply change the group settings to ensure that you approve all posts.  
You can post videos and files, and members can post pictures and comments about their DofE activities during the crisis. It's a great way to keep in touch.  
Facebook Messenger 
Facebook Messenger is used to contact individuals and groups. Run chats and video calls to groups. Send reactions and GIFs. When text isn't enough, hit record and send a voice message. Download from app stores. 
Skype 
Skype is a platform and app that lets you make audio and video calls to other people using Microsoft logins – similar to MS Teams (and, indeed, its forerunner). You can also send instant messages and see pictures of all those on the call. 
Discord 
Discord is actually designed for video gaming communities, and specialises in text, image, video and audio communication between users in a chat channel. It runs on all platforms and in web browsers and you can also share screens – many young people will probably be using this already. 
Mattermost 
Mattermost is a self-hosted messaging platform that lets you maintain full control of data. It features group chat or direct messaging, conversations in channels, searchable message history, audio and video, screen sharing, file sharing, and more. Mattermost is suitable for small companies and departments with data security requirements. There is a monthly charge. 
Line 
Line is a messaging app that lets you chat by text, audio and video message. You can also play games and post things to your timeline. There's no minimum age you need to be to sign up, but minors need parental consent. Download from app stores. 
Flock 
Create a private channel for focused discussions or a public one for participants to join. Launch a video call within a chat or channel, and share your screen for details. Drag and drop files of all types. Add guests on Flock, and specify the chats and channels they can access. Free for small teams. 
WhatsApp 
This is good for Leaders, but as it makes people's phone numbers available to group members it is not suitable for talking with participants. You can send PDFs, documents, spreadsheets and slideshows to your fellow Leaders. Download from app stores. 
Houseparty 
This is a social networking service that enables group video chatting through mobile and desktop apps. Users receive a notification when friends are online and available to group video chat. Ensure you choose 'invite only video chat' for extra security, so you know who you are really talking to. Download from app stores. 
Webex 
Popular video conferencing system from Cisco. Currently offering the system free of charge. 
Tips for digital meetings 
– Have everyone turn their microphones off at the start, or if the Leader is making important announcements or delivering a specific piece of training. Some systems let the organiser control this. 
– Set up rules, such as trying to avoid everyone speaking at once when microphones are on. 
– Keep the sessions fun and interactive to help keep everyone engaged.  
– Record all sessions for later sharing and to keep a record of what is said if needed. 
– Think of having energizers at the start. This could include a scavenger hunt: "First one to show me a tin of baked beans", or "Tell us one thing about you that is true but sounds fake. 
Emails 
Please ensure that you whitelist our email address, [email protected], to ensure emails from us get through your spam filter.