DofE volunteers work on wellbeing woodland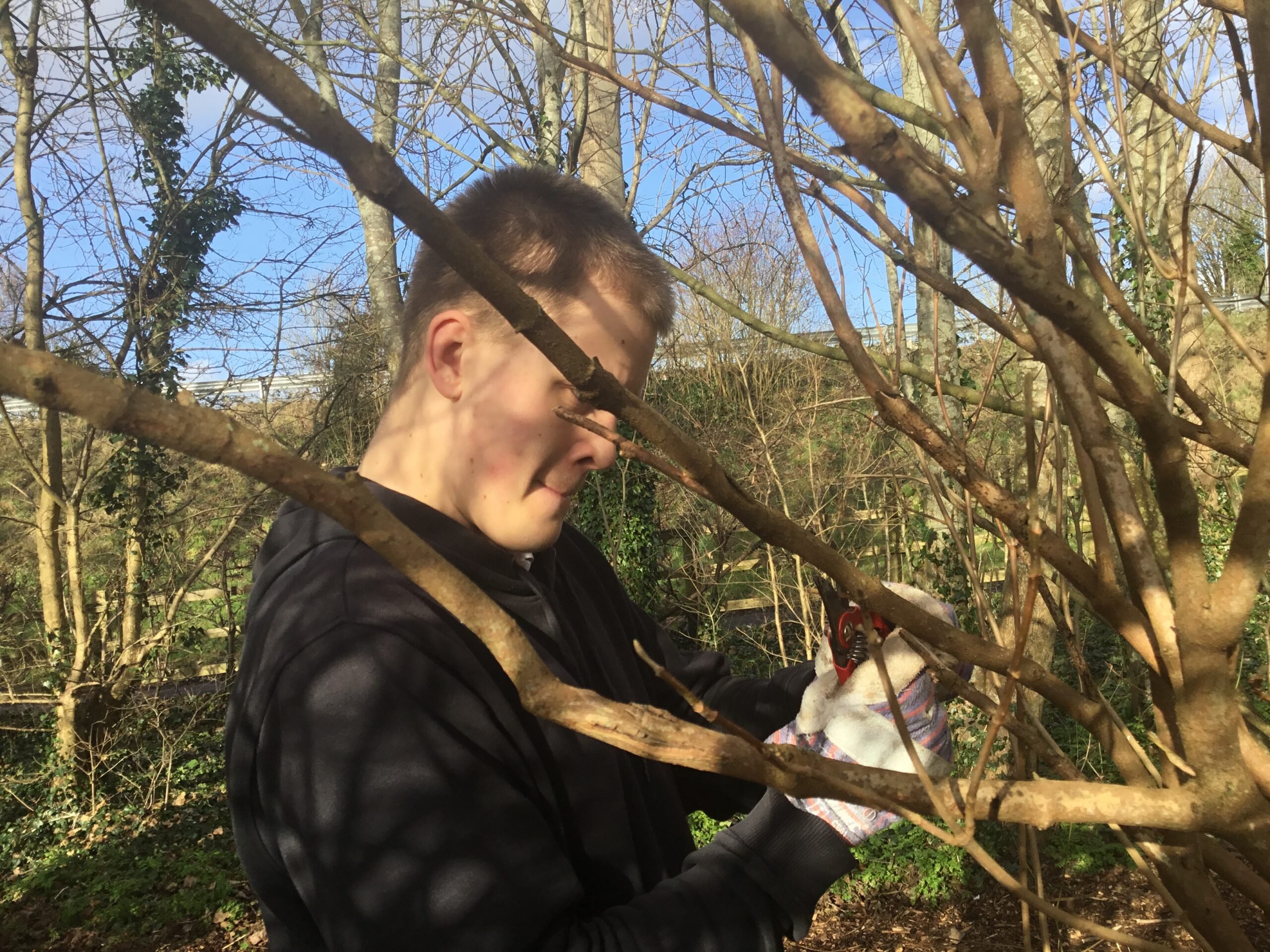 Participants from Culverhill School in Yate have been using the volunteering section of their DofE Awards to develop a wellbeing area in a local woodland. The DofE Manager at the school is Cerys Davies, who believes that the skills that the participants are learning will serve them well in the future.
Cerys said: "We schedule DofE as a part of our Year 10 curriculum because we believe that it offers pupils the opportunity to develop a wide range of interpersonal skills, confidence, commitment and teamwork – all good skills for life and preparation for future work. As a school we feel that the fact that certain employers will always offer an interview to candidates with a DofE Award is invaluable for the future employability of our students."
The participants in the group agree that the activity has helped them to develop relationships and have enjoyed collaborating with their peers, with one of the group stating; "I've started talking to people more."
The participants are also proud of the overall impact they have had on the woodland which they have been working on, with one participant saying; "I enjoyed helping to make the area look better", whilst another seized the chance to put the gardening skills that he has learnt with his Grandad to use.
Ken Thomas is the Estates Manager for Dodington Parish Council, where the participants have been volunteering. He believes that the local community has been able to benefit from the hard work of the DofE volunteers.
Ken says: "The impact on the public open spaces within Dodington Parish by the DofE volunteers from Culverhill School has been incredible. The volunteers have expanded public access to our newly built wellbeing area in the Wapley Bushes Nature Reserve in several ways.
The laying of a natural wood chip path and the pruning and management of overgrown areas of the reserve has opened new access points for members of the public. Expanding and clearing an area for den building, along with collecting additional den building material has created an area where children, parents, grandparents and carers can explore another aspect of the reserve. The youngsters who have volunteered for this project have impressed members of the local community as well as members of the Parish Council with their work on the project."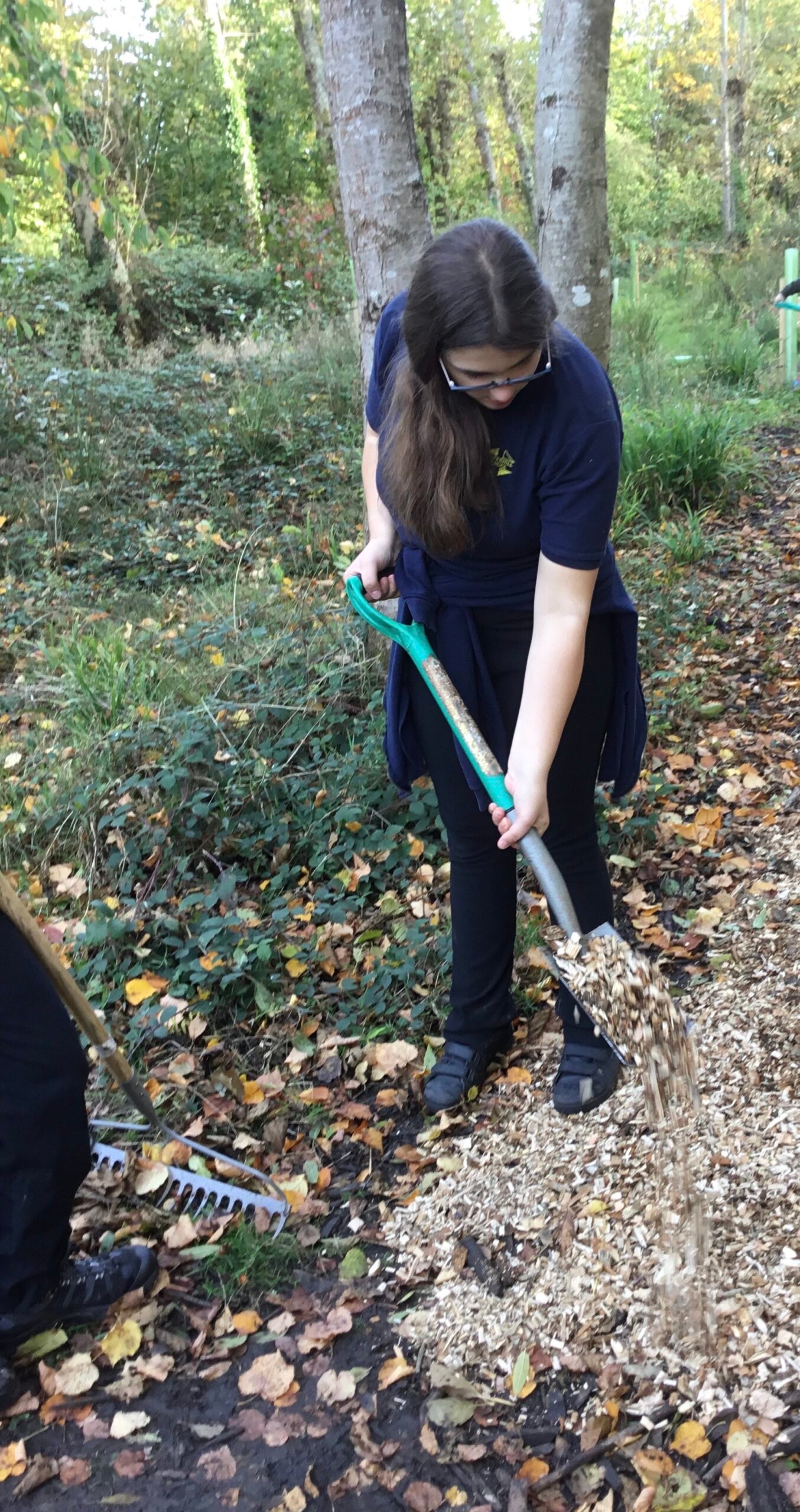 Helping others in the community is an element of the activity which the participants all agreed had been a part of the activity which they had enjoyed. One of the participants stated; "It helps you physically and makes you feel good in yourself, as you're helping other people do things." Another agreed with this; "It makes me happy. I like to help people. I enjoyed going on a walk and helping my friends with raking. I like to volunteer to be proud of myself. I like being outside but not when it is raining. I don't like getting my hair wet." A third volunteer summed the experience up by saying; "Some days were relaxing and calm. When you do something 'just cos', it lights your day."
Ken added: "The members of the Parish Council and I have noticed many changes in the volunteers, especially in the way they work together as a team. As the work advanced it was easy to see the pride they had in the achievements they had made. The excitement when gaining new skills like pruning, or using hand tools to make a bug hotel in the wellbeing area of the reserve was easy to see. In general, the volunteers became more outgoing and were keen to explore new things as well as developing an interest in the environment around them."
Cerys concludes: "Running DofE Bronze within the school curriculum is opening up new opportunities, skills and experiences for all of our pupils. It has been fantastic to see the sense of pride and achievement on pupil's faces when they achieve their goals on the expedition and during presentation events when they reflect on all that they have achieved."