Steve Morgan Foundation supports The Duke of Edinburgh's Award to reach more young people in Birkenhead and Wirral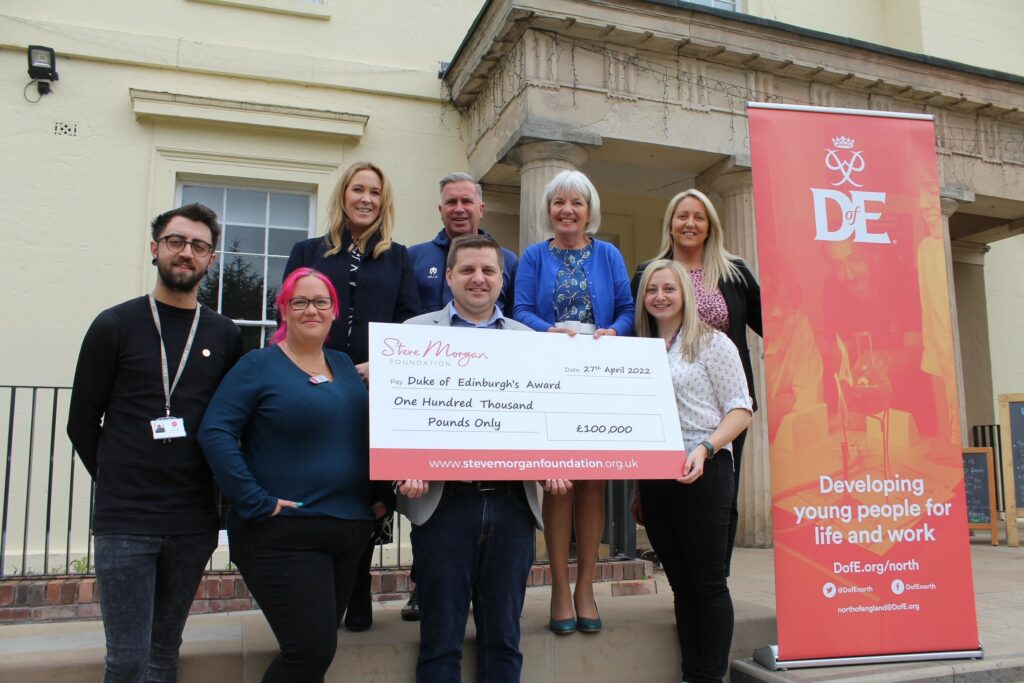 The Duke of Edinburgh's Award (DofE) will be able to reach more young people facing barriers to achieving their DofE, thanks to a £100,000 donation from the Steve Morgan Foundation. The grant, given over four years, will enable three local organisations to deliver the DofE for the very first time. The generous donation will support Wirral Youth Zone, Neo Community and Tranmere Rovers in the Community to start running DofE programmes; providing training for staff and volunteers and funding for young people facing financial difficulties. 
Steve Morgan Foundation presented the DofE with the donation at a small event attended by representatives from the charity and the three local organisations the grant will support. 
The work will support the DofE's ambition to build on HRH The Duke of Edinburgh's legacy by reaching one million young people by 2026, providing targeted help for young people who face additional barriers or need specialist support to do their DofE. 
Caroline Glen, Fundraising Director at the DofE said,
"The pandemic has had a seismic impact on young people's lives, affecting their job opportunities, mental health and education. Marginalised young people have been hardest hit. But time and again we've seen them show that – with the right opportunities – their potential is limitless. 
"The support of the Steve Morgan Foundation will enable us to bring the DofE to young people who don't currently have the chance to take part, equipping them with vital life skills and building their confidence and self-belief so they can achieve the future they want." 
Steve Morgan CBE, chairman of the Steve Morgan Foundation, said:
"The Duke of Edinburgh's Award has been helping young people since 1956 and we're delighted to be able to support them to do more life-changing work across Wirral and Birkenhead. For more than 20 years the Steve Morgan Foundation has been committed to making sure everyone gets the same opportunities and that huge sections of the community don't slip through the net. 
"This grant will help Wirral Youth Zone, Neo Community and Tranmere Rovers in the Community to deliver DofE for the first time and allow young people in parts of Wirral and Birkenhead to benefit from this fantastic initiative. It will provide them with the confidence and life skills that may have been denied to them previously. That's why the Steve Morgan Foundation is delighted to provide £100,000 of funding."