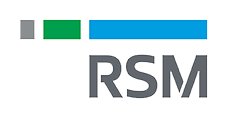 After a successful year of partnership as Headline Sponsor for HRH The Duke of Edinburgh's Real Tennis Challenge 2018 – helping the charity raise over £700,000 – we start our 14th year in partnership celebrating a step-change in the level of support from RSM as they become Strategic Partner.
RSM's drive to support the DofE is based around an alignment in key values and their desire to be part of a team which helps close the opportunities gap between those who are advantaged versus disadvantaged. Thanks to their generous support, RSM is helping thousands of young people – including their own young talent – push themselves to achieve the 'impossible' every year.
"We know the DofE's approach works well with young people – that's why we support it and why we've integrated the DofE into our training programmes. The DofE is the bridge between academia and work life. It brings RSM's teams together and reinforces our company values and culture; building recognition and solidarity, nationwide.
We understand that young people with a DofE Award will have experiences and will have faced challenges which will set them up for life. At RSM, we strongly believe the DofE will help young people potentially become our business leaders of the future."
David Gwilliam, Chief Executive Officer, RSM