This summer, we've launched our new podcast – Navigating Now – created by young people, for young people.
I'm on my phone constantly – how do I balance online and real life? My friendship has turned toxic – what can I do? I'm under pressure to fit in – how do I know what's truly me? I want to speak up for my beliefs – how do I start?
Young people have questions. About everything. Navigating Now is the podcast to explore some answers. Together with some special guests, young people discuss the issues affecting them today and put suggestions and advice to the test.
Across eight episodes, launched across the summer, Navigating Now features a range of themes from mental health to identity, relationships to social media.
Scan the QR code on your mobile or click below to subscribe to Navigating Now, wherever you get your podcasts and don't miss an episode!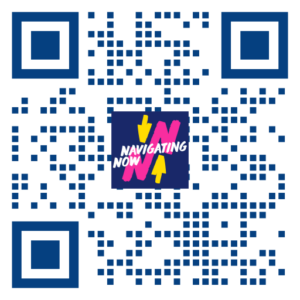 Please note – we are all unique, and the issues discussed in Navigating Now may impact and affect everyone in different ways. The thoughts and guidance shared and discussed are suggestions and possible approaches, and you should always do what feels safe and right for you. If you have been affected by the issues in the podcast or want to find out more, here are some contacts and resources you may find useful.
Navigating Now, from The Duke of Edinburgh's Award is brought to you with generous support from The Gosling Foundation and RSM.