Expedition training at home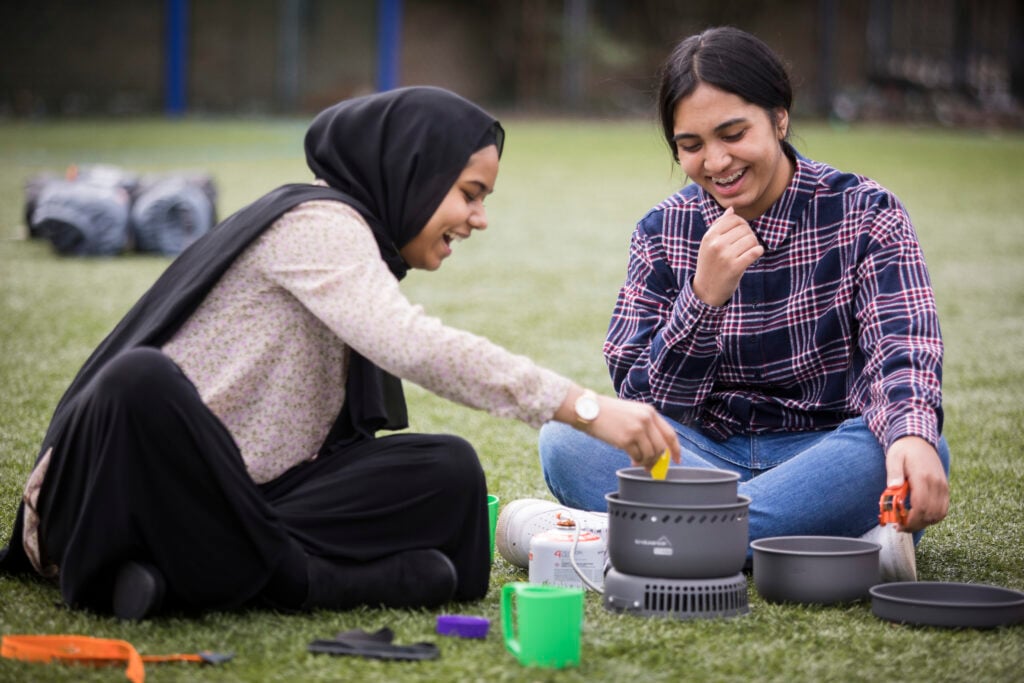 If you're waiting to head out on an expedition soon, there are plenty of ways you can prepare for the challenge at home, in addition to any online or face-to-face training your DofE Leader may arrange. Try some of these ideas to help you sharpen your skills and get in the mood.
1. Test your teamwork
Going on a DofE expedition will mean you'll have to make lots of decisions as a team. Which way to turn; when to leave the campsite; what to cook; what to wear. Practice decision making and problem-solving skills by taking part in a virtual escape room alone or with your friends. Search the internet for 'free escape rooms' – there's loads to choose from.
2. Food and nutrition
Getting the food balance right will help you to enjoy your adventure and maximise your energy levels, wherever you are. Food preparation offers a chance to get creative, while learning about how to ration and surviving outdoors. Your expedition food should be compact and easy to carry. It needs to be high in slow-release energy, which will help you to maintain stamina and keep you motivated throughout your expedition.
If you've never tried porridge for breakfast, it's the perfect chance! Instant-mix sachets where you 'just add boiling water' will help give you a great boost at the start of each day when on expedition. Practice packed lunch recipes that don't need a fridge, like pitta bread, wraps and cheese spreads. Trying food before you go means you won't find any unwelcome surprises while away.
3. Learn to cook like a pro
You won't have the luxury of using a cooker on expedition, you'll probably have just the one single-ring stove to use, so it's a good idea to test recipes before you go. Practice using food that doesn't need to be kept in a fridge, and can be cooked using just one ring of your cooker at home.
Boil pasta, add a sachet of bolognaise sauce and some chopped-up U-shaped sausage and/or chopped peppers and onion for flavour.
Boil rice and add chopped up snack salami sticks and/or fresh peppers. Add chopped onion and/or tomato sauce and stock cubes for extra flavour.
Stir fry U-shaped sausage slices and sliced onion into pitta bread pockets.
Add flavoured couscous to boiling water, following the instructions on the packet, then stir in dried fruit or sliced salami / Quorn snack sticks.
Fry foil-packed sliced potatoes with non-refrigerated meat or vegetables.
4. Map reading made easy
There are lots of resources available to help you learn how to read a map and prepare for your expedition. It will be different depending on whether you're doing your expedition in the countryside or in your local area. Different types of expeditions may require different types of maps. UK walking expeditions in the countryside would need to use 1:25 000 scale maps and cyclists may prefer a 1:50 000 scale one. For expeditions in restricted areas you would be better off using street maps. DofE partner Ordnance Survey (OS) has some great resources to help you wherever you're headed, take a look:
– Map reading made easy
– Map reading for beginner to advanced
– Using the national grid
5. Practice packing your kit
What kit you need and how you carry it, will depend on the type of expedition you are going to do. Whether it's walking, canoeing or horseback riding, start thinking about what you'll need, and what you'll carry it all in. Find out more information on the expedition kit list here, or speak to your DofE Leader.