Changing my Volunteering section due to Covid-19
by Poppy, Harris Academy Bronze Award
I am one of the thousands of school pupils who have seen their Duke of Edinburgh Award affected by coronavirus. I was lucky enough to have completed both the physical and skills section of the award before lockdown, but I was only two weeks into the three months of volunteering I still needed to do. I had been volunteering at a nursery school in Dundee on Fridays after school that I was enjoying, but when the schools and nurseries closed, this was no longer possible. Initially, I was quite worried about how I was going to be able to complete my bronze award as I had no idea when the nursery would open again. However, our Leader, Mr MacDonald, as well as The Duke of Edinburgh' Award have been very helpful in keeping us up to date and giving ideas on what to do if we still have sections to finish. We have been able to change activity if we need to, and The Duke of Edinburgh has changed the rules slightly as it's an unprecedented situation where many people wouldn't otherwise be able to complete it.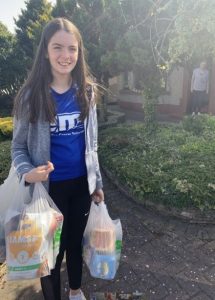 That has allowed me to change my activity, while at the same time being able to help those in need during this difficult time. I have been delivering shopping to both my granny and my gran & grandad as they all fall into the vulnerable category. I have also been making up quizzes and exercise classes on zoom for them. My granny, who lives on her own, underwent chemotherapy recently; therefore, it's safer for her not to go to shops. I help her by delivering her shopping and keeping her company by doing quizzes and exercises. The type of cancer my grandad is suffering from means he is in the shielded category and isn't supposed to go out at all. My gran doesn't keep very well either so it has been such a great help to her too. The quizzes have helped keep their spirits up.
I have been doing this since lockdown began so I am well on the way to completing my volunteering section. I am so grateful I was able to change activity and I am also really happy that I can do my small bit to help the elderly in what is a particularly difficult time for them when they can't see their families.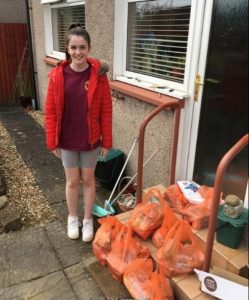 We were meant to be going on our expedition earlier in May but unfortunately that couldn't happen due to the Covid-19 lockdown. We have been told we will still get a certificate for all the other sections of the award and if we can do the expedition at some point, then we will get another certificate. I hope we can do it another time but if social distancing means we can't then we will just have to look forward to doing it for our silver award!